Published on Wednesday, 20 October 2021
| Announcements
| Exhibitions
Swifts, Swallows and Martins at The Natural Eye 2021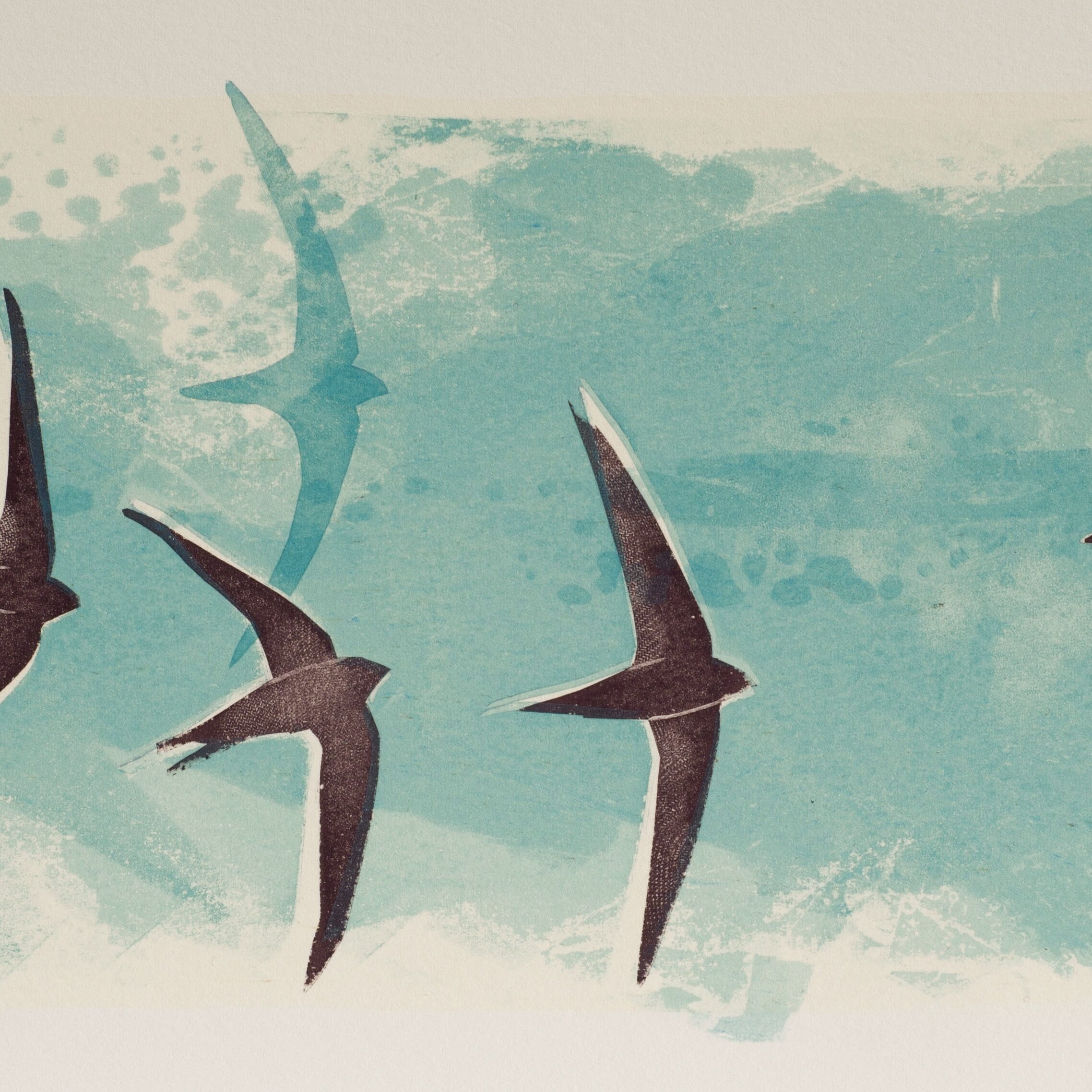 Swifts, swallows, house martins and sand martins are all summer visitors to the UK. These beautiful birds embark on a long and perilous migration from their wintering grounds in sub Saharan Africa to reach Europe to breed. Long winged and aerodynamic, they have proved inspiring for several of the artists in this year's exhibition.
Printmaker Jane Smith's ​'Summer Swifts' was made after she spent time watching them both in the sky and on their nests.
A neighbour has a camera in a swift nest box under the eaves of her house. I got to know the birds close up, and then watched them enjoying the vast space of the sky.

Jane Smith

Similarly, Brin Edwards' has used his intense colour pallette and expressive brushwork to capture a local scene he spotted this summer.
On my daily dog walk I pass by fields which last year were planted with onions. A few always get missed at harvest time so this year they shot up amongst the barley. Swallows zipping through the field catching flies complete the picture.

Brin Edwards
Sculptor Harriet Mead has used a sickle as a base to set her Tweezer Tailed Swallow. Using hints of colour from the handles of a pair of red scissors and a white painted coat hook, she has made the piece entirely of found objects.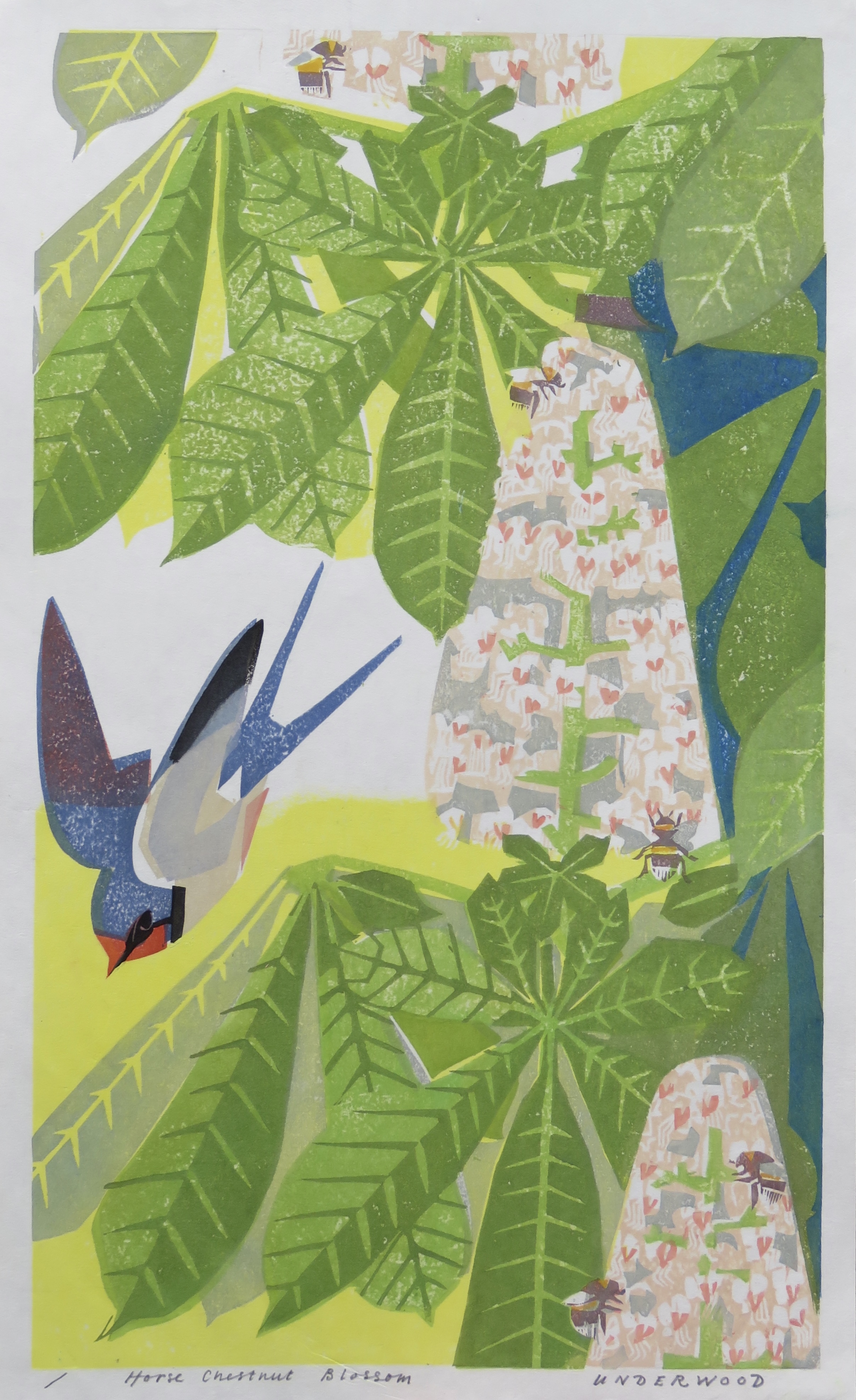 Another artist to be inspired by swallows is painter and printmaker Matt Underwood. Horse Chestnut Blossom is a beautiful woodblock print which showcases the delicate layering of colour for which Matt is so well known.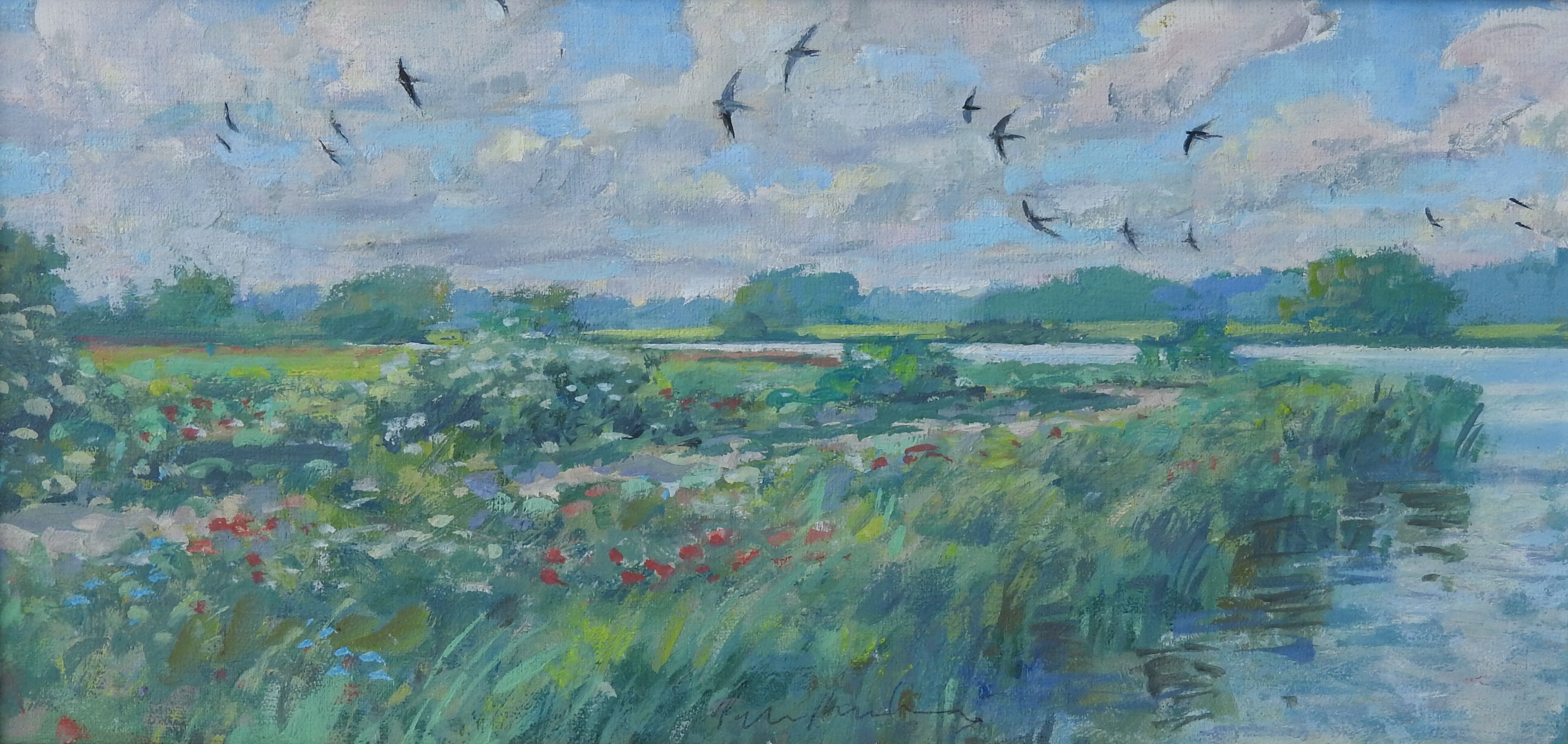 Peter Partington is another artist who spends time watching wildlife close to home. He has painted a lovely oil of swifts, a species that for many epitomises summer.
Summer began late this year so it was a relief to spot the Swifts over the village again. They travel far to top up with insects for their young. I was excited to see them here in force over water where they can harvest the maximum crop of flies.

Peter Partington
Last but not least, Swifts feature in printmaker Richard Jarvis's charming linocut and House Martins fly high in Kittie Jones's piece .
To view all the works at the exhibition visit Mall Galleries.