Kingcombe Project 2017
In late May SWLA artists Carry Akroyd, Bob Greenhalf, Simon Griffiths, Richard Jarvis, Harriet Mead, Nik Pollard, Greg Poole, Matt Underwood and myself Antonia Phillips spent four days in the beautiful setting of Kingcombe Meadows, one of Dorset Wildlife Trust's Nature Reserves, exploring and working in the field as part of this collaborative art project. I am fortunate to have worked with the Dorset Wildlife Trust for over 30 years, producing illustrations and interpretation for many of the Trust's reserves and now, this opportunity to work with other artists.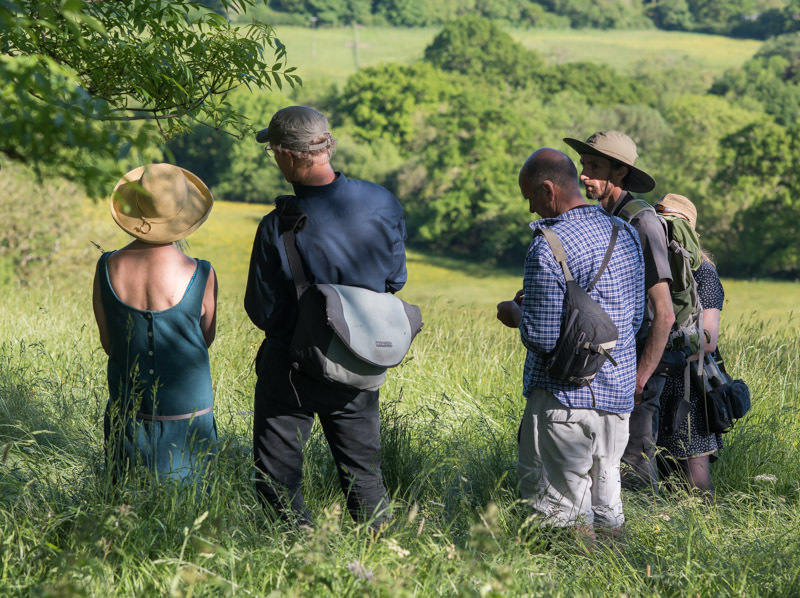 The idea was developed over time with the help of staff at Kingcombe and the DWT head office, who recognise the value of art in helping connect people to wildlife. The Trust were particularly keen on the SWLA artists making work with a site specific response, the proposal centred around the stunning Kingcombe Meadows Nature Reserve, as part of Kingcombe's 30 year celebrations.
The Kingcombe Centre is surrounded by over 450 acres of unimproved pasture, wildflower meadows, hedgerows and ancient woodland. It certainly provided us with plenty of inspiration and Swallow Barn became a temporary studio giving us space to layout our increasing collection of fieldwork as we ventured out each day to various locations in the Reserve.
An initial guided walk gave an invaluable introduction to Kingcombe's special qualities, including the 16 new hectares of flower-rich meadows making up the Coronation Meadows. We walked through the evocatively named Cowleaze, Lady's Mead and Adders Plot with a short interlude in search of the rare corky fruited water dropwort, special to the area. Bullfinches abound and some had the good fortune to see a kingfisher along the bank of the River Hooke.

It was the first time I have worked with fellow SWLA artists and after initial apprehension, I thoroughly enjoyed the experience. I am so pleased the project has come to fruition, not least to immerse myself in the lesser known corners of this colourful landscape, but also to see how differently we work but all with the same plan.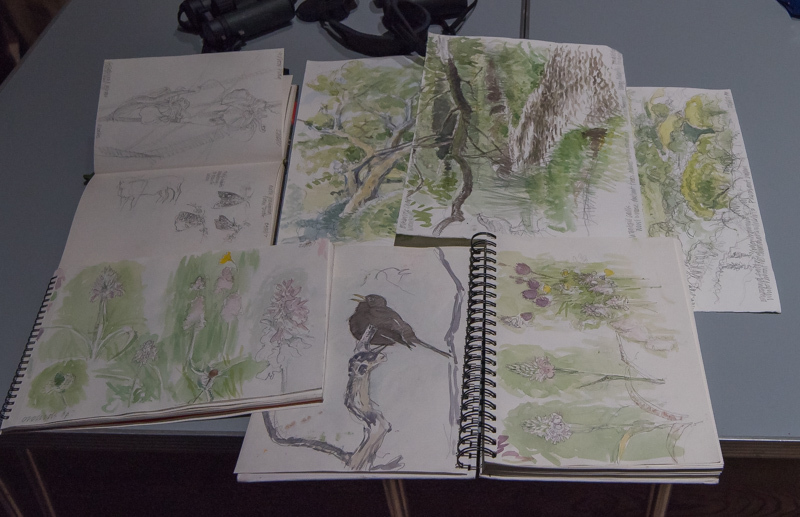 I gained a great deal from the experience, being able to observe the different approaches to fieldwork employed by the artists and chatting to them was valuable. This will be beneficial to my own work in the future. I must say a thank you to all the Dorset trust staff who looked after us during our stay

Richard Jarvis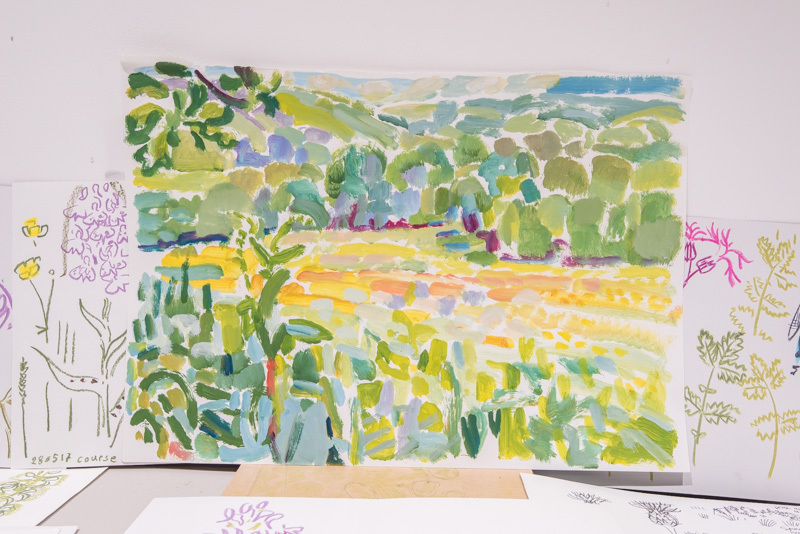 Late May, and Kingcombe suffered days of inclement weather, the landscape dark, then fleetingly spotlit between scudding clouds. When sunshine returned, warm air revived the insects and the landscape transformed into a patchwork of colour, pale yellows, ochre, and cool greys. Smaller fields have a feeling of intimacy, thick, deep and dense with an intoxicating array of wildflowers

Matt Underwood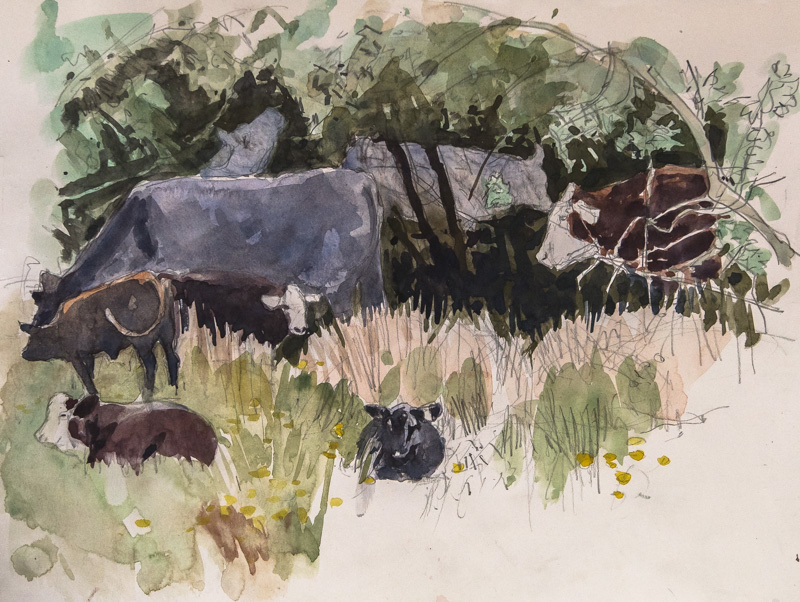 Along windy single track lanes with Matt to Powerstock Common Reserve. Weather decidedly un-promising dull and misty, but mild. We started off looking for Marsh Fritillaries in a specially fenced off area (against cattle), but without much hope. There were, however plenty of birds. A Tree Pipit parachuting, a Stonechat pair, Yellowhammers, Bullfinches and a moribund Lizard waiting for the sun. There was also a huge variety of plants, including the impressive Meadow Thistle with magenta flower heads on a single glaucous stem and few leaves

Robert Greenhalf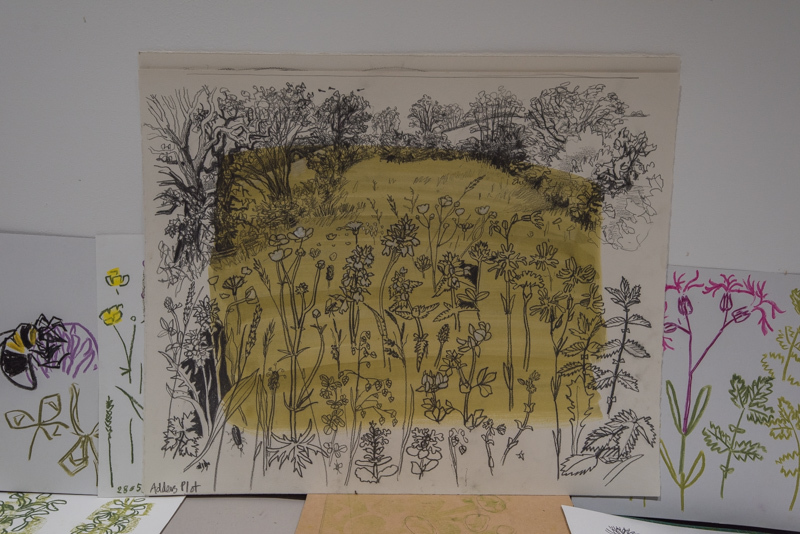 For me Kingcombe was a mixture of joy and anger. The delight of sitting amongst the density and abundance of flowers, and being able to wander at will, reminded me what modern farming has stolen from us during my lifetime

Carry Akroyd