Published on Monday, 21 October 2019
| Bursary reports
Louise Wilde – Seabird Drawing Course 2019 Bursary Report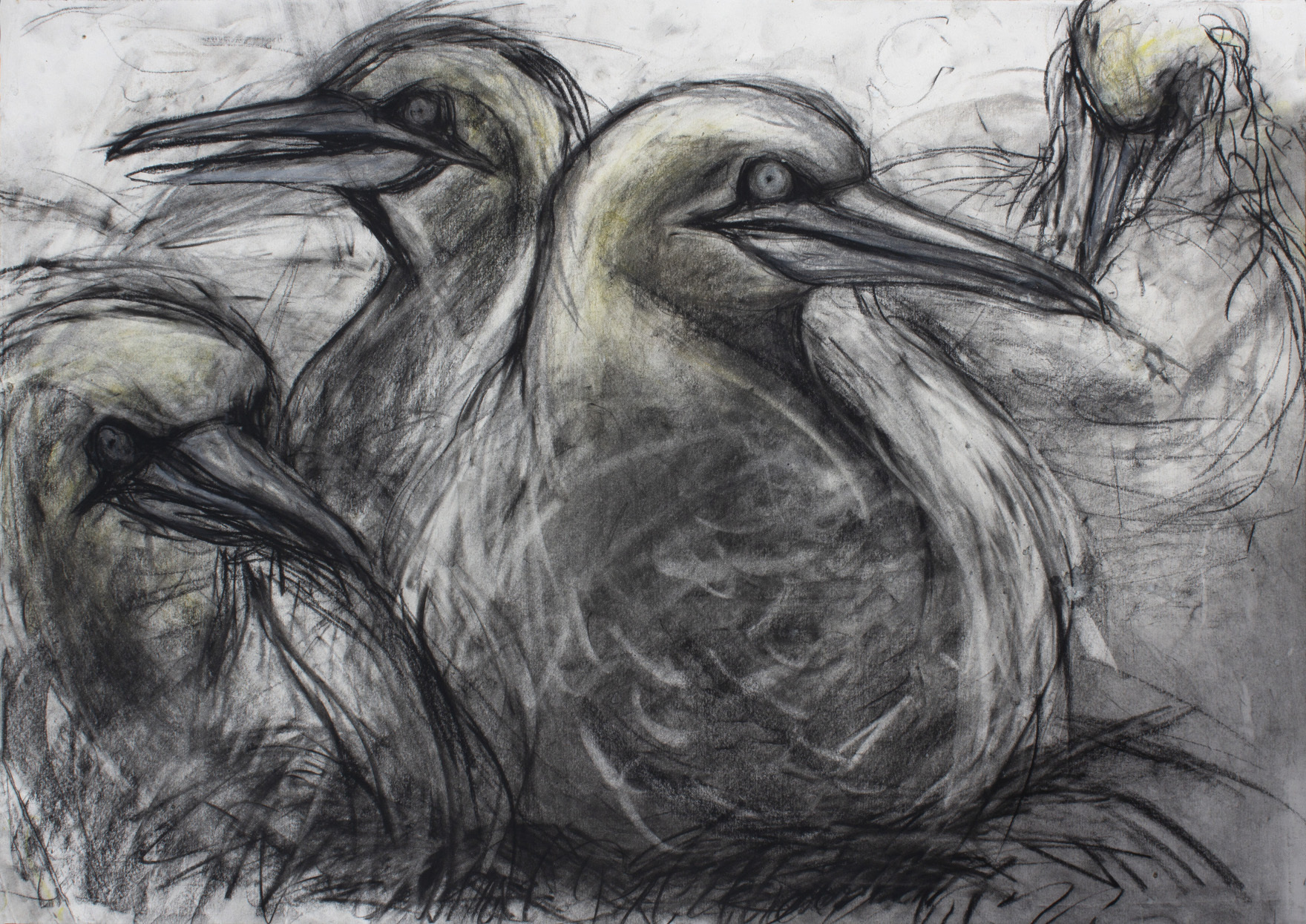 It was an amazing opportunity to be surrounded by so many artists who were clearly passionate about their subject. I felt like I made quite a few friends on the course that I will remain in contact with for years to come.

Louise Wilde
The day after I ​'landed' back on my home turf of Edinburgh I felt dizzy, exhausted and exhilarated.
As I walked through the streets of Leith trying to process the events of the preceding week on the course I bumped into Kittie Jones, Seabird Drawing Tutor, and for a moment I genuinely could not fathom where I was! Clearly the week had had a greater impact on me than I had accounted for.
I met Kittie at Edinburgh Printmakers. I regularly draw animals from observation and ​'in situ' at city farms, zoos and wild garden/urban-dwelling birds which I then turn into etchings at the Printmakers Workshop. Following a conversation about drawing animals Kittie suggested that I consider applying for the John Busby Seabird Drawing Course bursary. I have longed to explore the creative process and applied skill set of drawing ​'in the field', so I submitted my application. When I received the news that I had been offered the bursary I was over the moon!
Each tutor had their own perspective and approaches which gave balance and direction to the course. The tutors often devised drawing exercises at the beginning of each session which I found to be invaluable as it enabled me to grasp hold of what could often be an overwhelming experience. Informal chats and one to one advice with the tutors also encouraged me to step out of my comfort zone. Although uncomfortable, I welcomed the opportunity to take my work in a fresh, new direction.
The days were long and intense, often starting at 8.30am. We worked through the day until late afternoon then reconvened in the evening to chat through the work we had made during the day followed by a meal and sometimes an evening lecture or informal discussion.
It was an amazing opportunity to be surrounded by so many artists who were clearly passionate about their subject. I felt like I made quite a few friends on the course that I will remain in contact with for years to come.
We had the opportunity to visit several places around East Lothian, including the Kittiwake Colony at Dunbar, Sea Cliff and Fidra. However, there are two places which have stayed with me since my visit.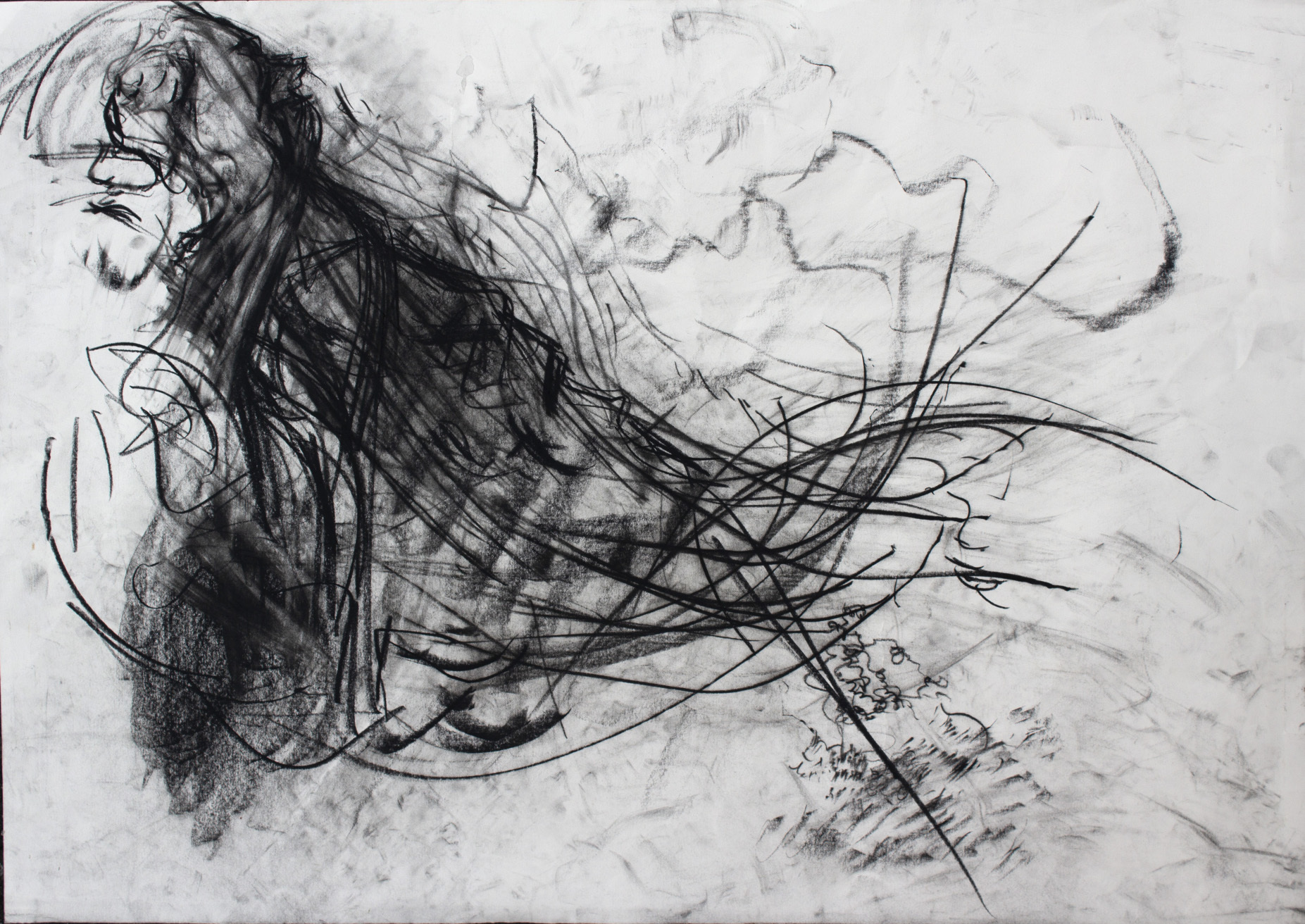 St Abb's Head
On our first visit to St Abb's Head the weather soon took hold. It was far too windy to use an umbrella so alongside fog and torrential rain, it wasn't long before my drawings were literally pouring off the page. However, this was an exhilarating experience and a great leveller, and the weather just made everyone on the course more determined to get something down on paper.

In direct contrast, with a slight breeze and clear skies the conditions for drawing at St Abb's on our second visit were ideal. I focused in on a small group of nesting razorbills who were in fairly close proximity, determined to understand their shape and form. However, when I stepped away from my drawing I looked around and as far as the eye could see there was a host of species including razorbills, guillemots, kittiwakes and gannets that would often spread their huge wings to take off from their rocky stack outposts and plunge into the water. It was a truly awe-inspiring experience that I shall never forget.
Bass Rock
As we drew closer into Bass Rock, the cacophonous sounds of 150,000 gannets grew louder and louder, until you could hardly hear yourself think! As I looked directly above and into the distance, a swarm of gannets filled the sky like a snow blizzard. And the stench of guano was intense! It was clear that this was going to be an incredible experience.

We slowly tread up the steep steps of the island and carefully manoeuvred our way through the colony until we reached the ruins of an ancient chapel.
The gannets would occasionally lunge towards me and I would spot the odd chick peering over the top of the nest, which felt like a real privilege.
I noticed other species, including razorbills, herring gulls and a family of shags nesting at the gate of the castle ruins ​'like guardians of the island' as fellow student Alice stated. However, it is the gannets that have completely colonised the Bass Rock.
Feeling like an alien who had landed on a different planet, I was overwhelmed. My main challenge was how I was going to respond to this incredible opportunity.
I was entranced by gannets flying from and coming into land on the island – so close you could feel the movement of the air above and around.
However, I also figured that this was such as rare chance to get in such close proximity to these creatures and I was fascinated by their fine, sculpted forms and pale jewel-like eyes so decided to create a group ​'portrait' of nesting gannets.
It was a sweltering day, but I kept my waterproof coat on, buttoned to the top and velcroed tightly around my wrists, to stop the flies getting in. They crawled over every surface that was exposed – under my hat, behind my glasses, all over my bag, art materials, water bottle etc. It felt almost like an endurance test!
We spent a good six hours on the island until the swell determined our exit. Our serene 20 minute journey towards the Bass Rock was in direct contrast to the hour long roller coaster ride back as the boat was driving against the swell currents.
When we finally arrived back in Dunbar Harbour, the enduring experience of Bass Rock had already been etched in my mind forever.

Summary
There is no doubt that this was a challenging week, however, I believe this is the start of something new and exciting. It has given me the impetus to assemble a ​'field drawing kit' and revisit the Kittiwake colony at Dunbar several times. I'm excited about the possibilities and can't wait to explore seabird, wild bird and animal colonies further afield.