Published on Monday, 21 October 2019
| Bursary reports
Melanie Mascarenhas – Seabird Drawing Course 2019 Bursary Report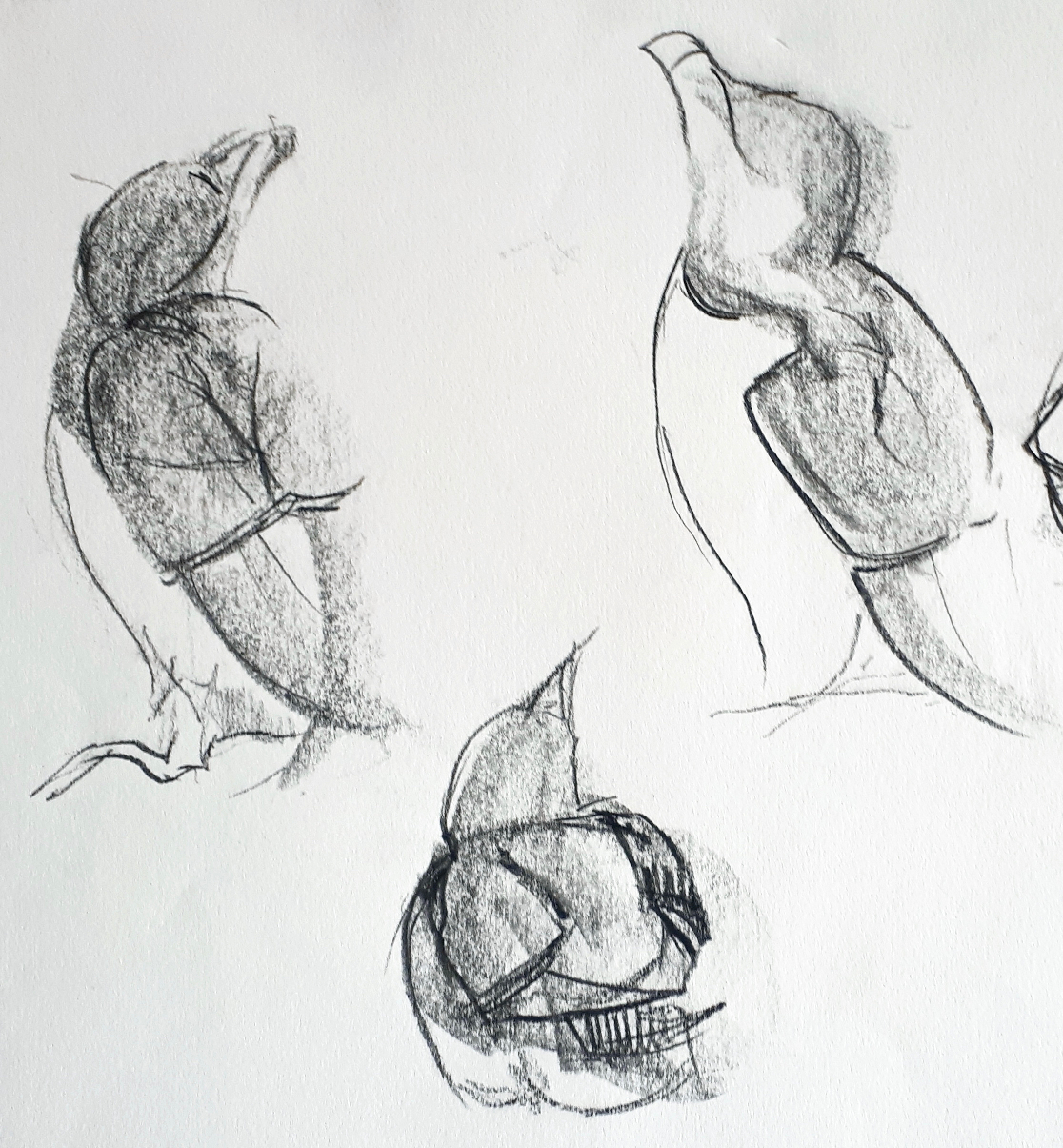 Seeing my work through other people's eyes helped me to recognise what was working well and how to carry that forward to the following day.

Melanie Mascarenhas
I love observing birds in the wild, however, I have limited experience of drawing them. Receiving the SWLA Seabird Drawing Bursary gave me the much-needed opportunity to change that, for which I am incredibly grateful.
Monoprints based on field sketches of insects and arachnids drawn in a suburban environment have been my main artistic focus. I knew, however, there was something missing from my approach. My work seemed to be inhabiting a very small, contained and comfortable world.
The John Busby Seabird Drawing Course was the perfect remedy — there is nothing small or contained about this experience.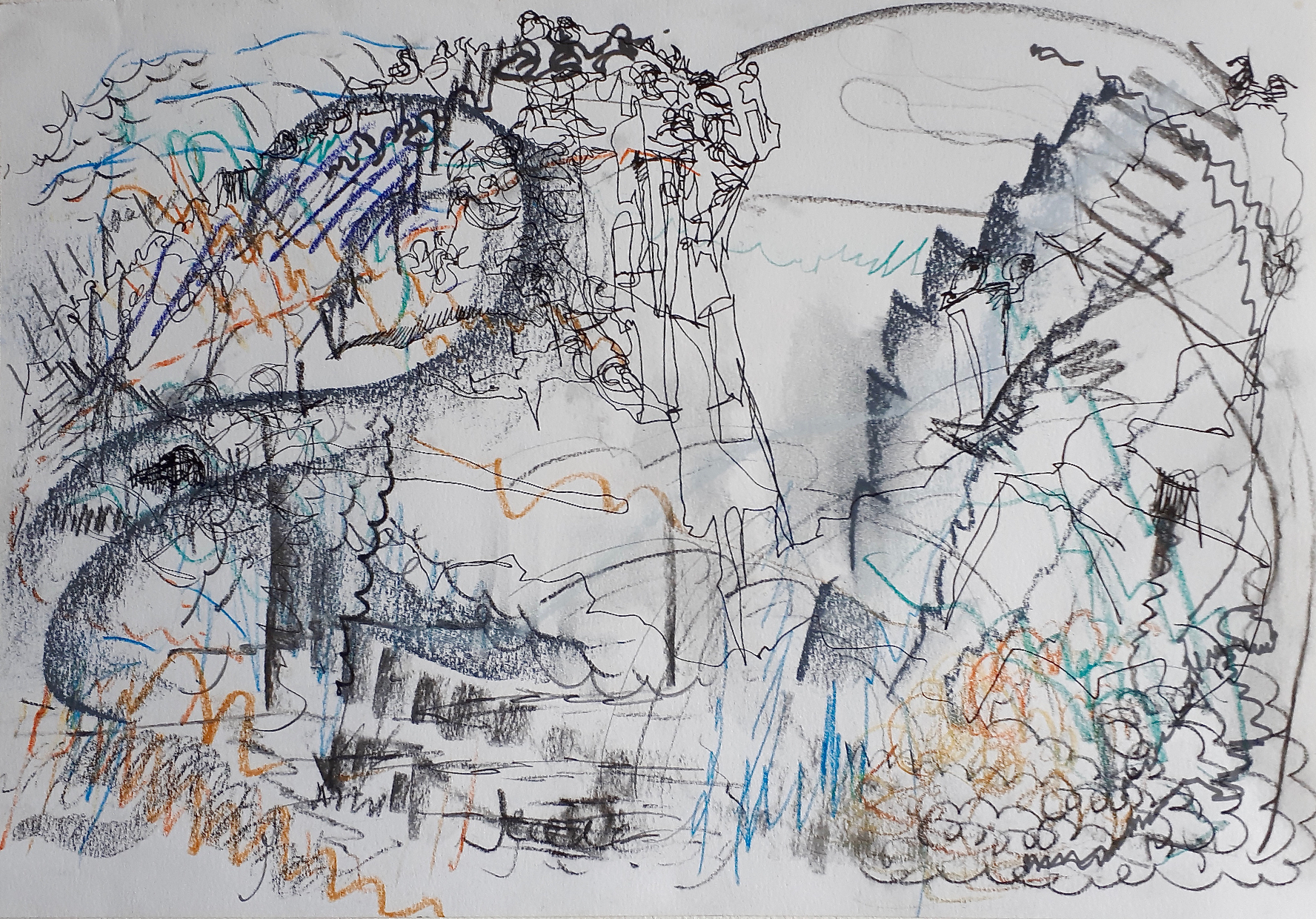 The vast, noisy and dynamic seabird colonies within a vividly intense environment were breathtaking and an absolute joy to behold. Naturally, this presented the dilemma of meeting the challenge of getting this down on paper. The various drawing exercises the tutors set us each day, which began with a period of just sitting, listening and getting a feel for the place, really helped.
The combined sound and continuous line drawing exercise were particularly useful when faced with drawing gannets on the incredible Bass Rock; an awesome if somewhat overwhelming sensory experience. It was a huge privilege to actually sit with the enormous colony and draw.
The exercises afforded me the freedom to fully explore my drawing and mark making. I learned to enjoy having a fistful of drawing materials and living through the movement from eye to arm to hand to paper, imprinting the experience as purposeful meaningful marks. It put me on a new, braver path to finding my artistic voice and begin creating my own visual language.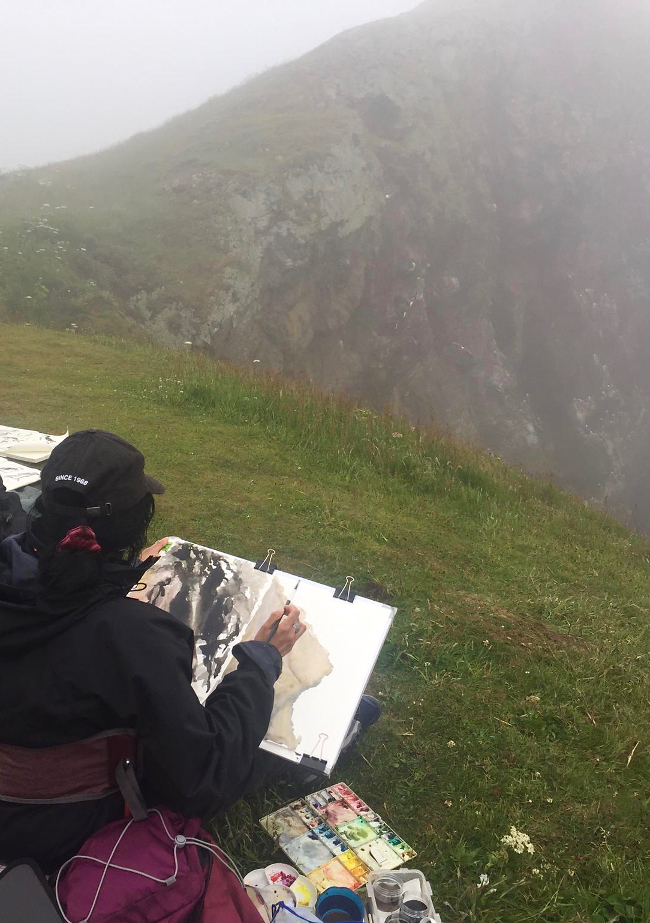 I would never have believed I would welcome pouring rain, buffeting winds and dense sea fog, but it was an incredibly liberating experience to enjoy the process more than the outcome. At one point I looked down to see more colour washed onto my waterproofs than was clinging to the paper and just chuckled.
There was a real sense of camaraderie facing the elements and challenges with a truly wonderful group of like-minded enthusiastic artists, which was incredibly uplifting. The tutors were all so informative, helpful and motivating. Everyone, students and tutors alike, was incredibly supportive and it was a relief to know that everyone, no matter how experienced, was also navigating their own personal struggles.
Seeing the work at the end of each day, with all the different interpretations, styles and approaches was instructive, invigorating and helped give rise to new ideas and possibilities. Seeing my work through other people's eyes helped me to recognise what was working well and how to carry that forward to the following day.
My biggest breakthrough came after being handed a block of graphite to draw razorbills. I'd never used graphite in this way before, but as I felt it glide across the paper, carving out shapes in a sculptural way, I finally felt I was starting to convey some of their character, energy and dynamism in a more exciting and meaningful way.
In many respects, I have learned so much more than the results on paper can show. It was a challenging week in every sense, overwhelming at times with recurring feelings of anxiety and elation. But for me, real progress can only be had with the added struggle. This unique opportunity has increased my passion for working outside and I know that what I have learnt will continue to manifest itself over the coming months and that this inspiring week has permanently changed the way I observe and respond to the natural world.