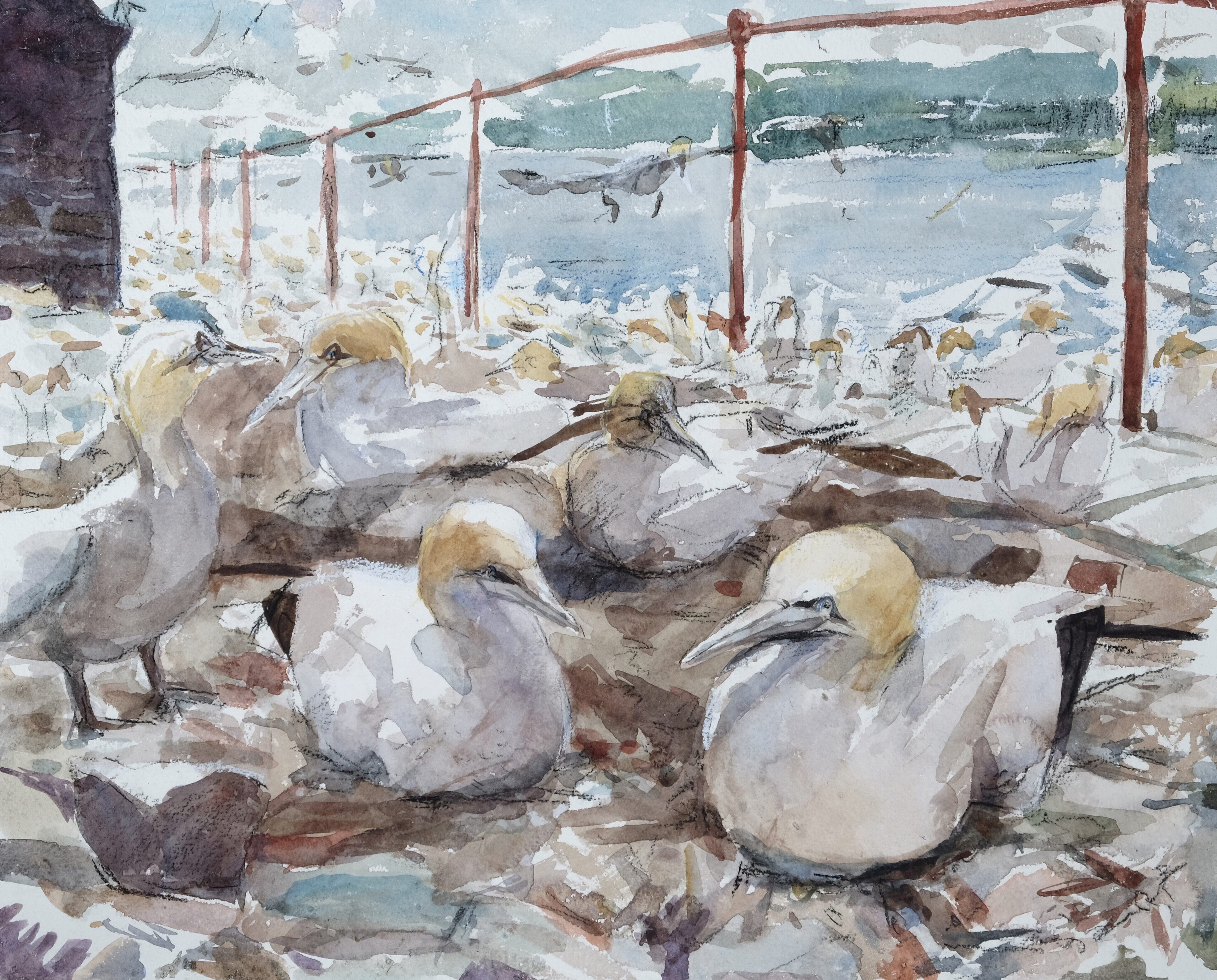 Nye Hughes
Nye's work concerns communicating the importance and beauty of the natural world. He does so both as an artist and as a designer and visitor-interpretation professional.
He lives and works in Edinburgh, Scotland, and draws heavily on the beautiful local landscapes and wildlife for inspiration. Preferring to work in the field from direct observation, his practice frequently takes him armed with watercolours to tackle the seabird colonies found on the islands of the Firth of Forth and the Lothian coastline. Nye places as much importance on the colours, sounds and textures of the landscape as the birds and plants.

Parallel to his artistic work, Nye has contributed to the wildlife-art community as the designer of numerous illustrated books. These include John Busby: Drawing Birds & Drawn From Nature, Robert Gillmor: Cutting Away, Chris Rose: In a Natural Light, David Measures: A Hidden Surprise, Bruce Pearson: Troubled Waters, Carry Ackroyd: Wildlife in printmaking & Nature's Powers and Spells, Darren Woodhead: Dawn to Dusk, and Ben Woodhams: Kyst. Nye also designed the book of the SLWA project: At the Edge / Aig an Oir, which detailed the biodiversity of Scotland's temperate rainforests, and the Artists for Nature project, The Great Fen. Nye also designed and developed the current SWLA website.

Nye has exhibited in group exhibitions themed on seabirds at Kinblethmont Gallery, Arbroath, the Donald Watson SOC Gallery, Aberlady and the NatureScot headquarters in Perthshire. He was elected as ASWLA in 2021.