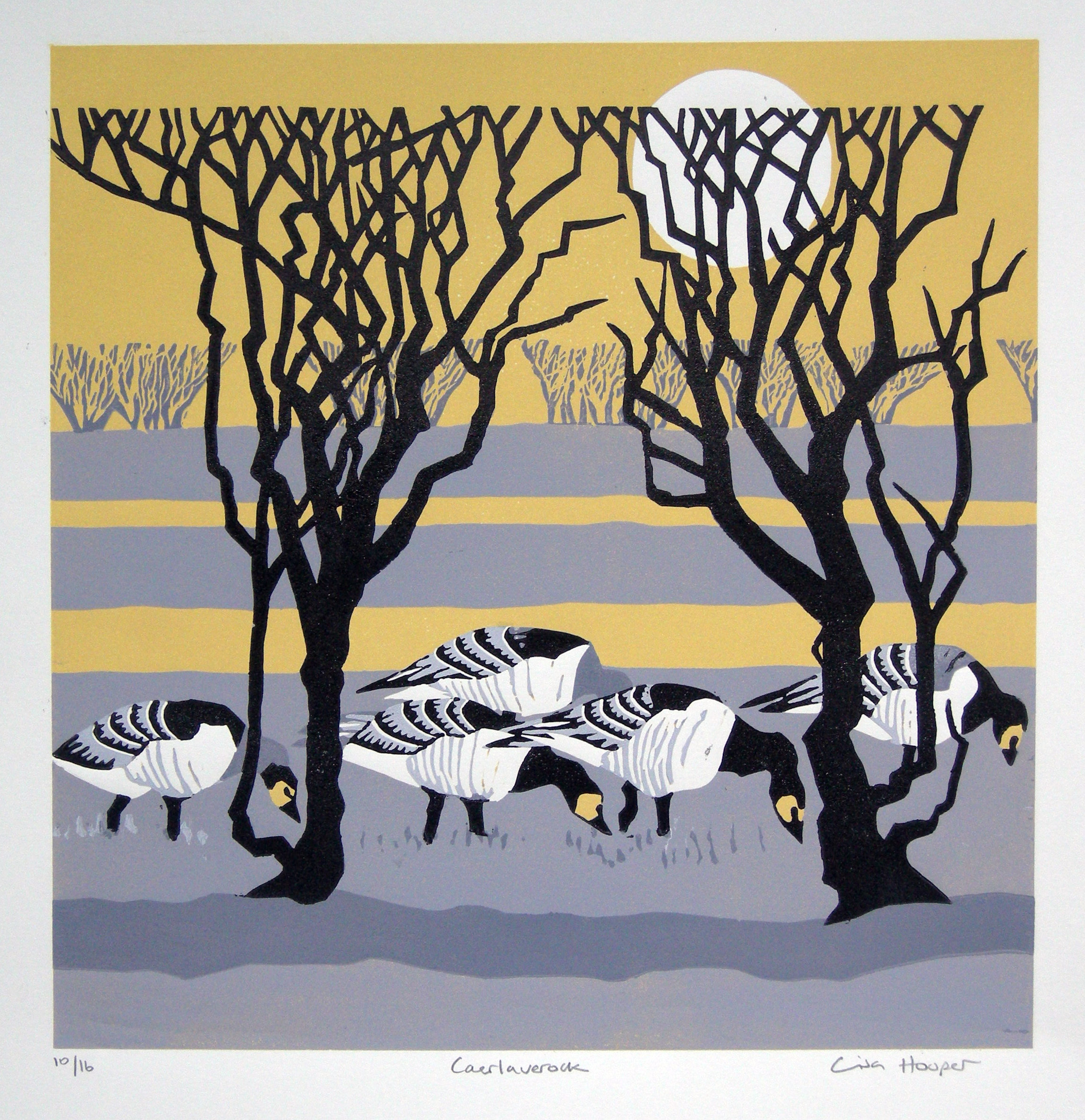 Lisa Hooper
Lisa was born in Hampshire and has lived in north east Essex, mid-Wales, Gloucestershire and Dumfries and Galloway where she has now settled. In 1992 she joined an evening class in etching at what is now the University of Gloucestershire and became fascinated by printmaking. Over successive years her commitment grew and in 1998 she bought her own press and started working from her basement studio in Cheltenham.
Lisa began to sell her work at first locally and then further afield. Redundancy from the Countryside Commission in June 2005 enabled her to relocate to south west Scotland in order to become a full-time artist.
Her work is varied both in terms of technique and subject matter but her passion for landscape and natural history, particularly birds, is evident in much of her work. She makes linocuts, woodcuts, collagraphs, etchings, monotypes, and Japanese woodblock prints as well as working in some mixed and hybrid print media. The purchase of a Columbian press in 2015 enabled her to produce multiblock and reduction linocuts more accurately and this is reflected in her recent work. Lisa is fascinated by the interaction between machines and the artist, having owned two presses each of which profoundly influenced her work and having recently started to use an ipad for design.
Lisa is a member of Galloway Artists and Makers and the Dumfries and Galloway Fine Arts Society and exhibits widely within and beyond the region. Langford Press published her book, First Impressions in 2014. Since then she has won prizes from the National Exhibition of Wildlife Art and from the 2015 David Shepherd Wildlife Artist of the year Exhibition. In 2018 she exhibited solo, for the fourth time, at the Scottish Ornithologists' Club, in Aberlady. This year she will be exhibiting solo at WWT Caerlaverock and WWT Martin Mere. She has had three residencies at Nature in Art and one at the East Neuk Music Festival and is a regular contributor to the Society of Wildlife Artists' (SWLA) annual open exhibition, The Natural Eye, at the Mall Galleries. In 2019 she was elected an Associate Member of the SWLA.
Lisa exhibits in the Art Marquee at the British Birdwatching Fair at Rutland Water and in a number of commercial galleries throughout the UK. Her second book, Printing Wildlife was published by Langford Press in 2016. She has contributed to a number of books on printmaking published by Mascot Media and has a portfolio of greetings cards published by Art Angels.
Lisa teaches printmaking and batik on paper from her studio/​gallery, which is in her home in Port William, Dumfries and Galloway.