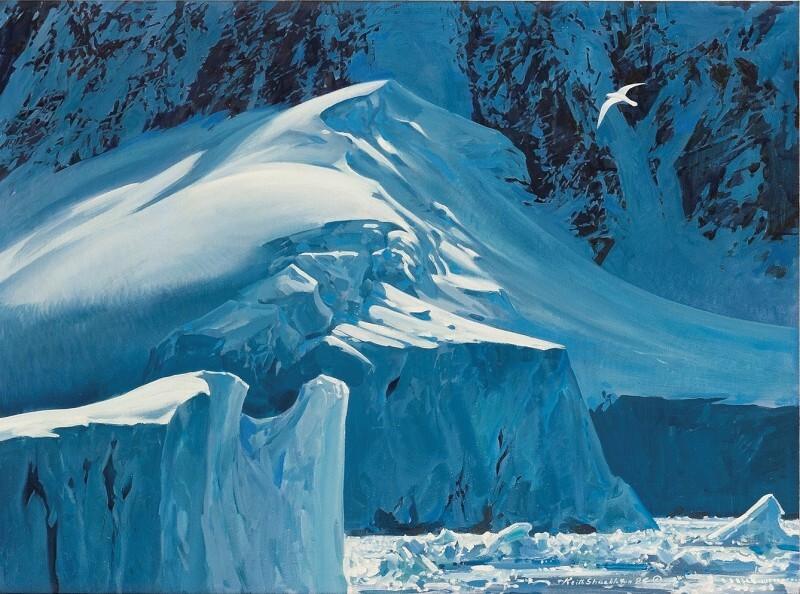 Keith Shackleton MBE 1923–2015
SWLA Founder member and past President
Keith Shackleton was one of those rare individuals who excel at just about anything they turn their hands to. Quite apart from being a fine painter, one can list among his many other achievements; wildlife conservationist, naturalist, television presenter, pilot and internationally acclaimed yachtsman to name but a few.
As well as being a founder member and former president of the SWLA he was also President of the Royal Society of Marine Artists (RSMA) and Chairman of the Artist's League of Great Britain – a measure of the great esteem in which he was held by his peers. In 1986 he received the award of ​'Master Artist' by North America's foremost wildlife art institution the Leigh Yawkey Woodson Art Museum, and in 2012 he was awarded the MBE for services to wildlife conservation.
Keith Hope Shackleton was born on 16thJanuary 1923. The son of a leading aircraft designer, he served five years in the RAF and after the war joined the family aviation business as a salesman and pilot. This work took him abroad, but in his spare time he loved to paint and by 1960 demand for his work had increased to the point where he decided to become a full-time artist.
His passion for small-boat sailing saw him representing Great Britain several times in international regattas and on four occasions he was crew aboard the winning boat in the international ​'Prince of Wales Cup' for 14ft dinghies.
Keith was a great friend to Peter Scott and was a founder member of the Wildfowl and Wetlands Trust (WWT) and aided Scott in setting up the first reserve at Slimbridge. He remained heavily involved with the WWT and was a Trustee and Vice-President of the trust. He also did much for the conservation of wildlife in the Antarctic – a part of the world he had a special affinity with and visited often.
In the mid 60's Keith joined Johnny Morris as co-presenter to the memorable ​'Animal Magic' programme and later, in the late 70's and early 80's, he fronted his own television series ​'Animals in Action'. Keith illustrated several books and published two art books of his own work; ​'Wildlife and Wilderness – an artist's world' in 1986 and ​'Keith Shackleton – an autobiography in Paintings' in 1998.
Keith was a great inspiration and to many, but he was at his most brilliant when painting the sea. This was clearly the subject he loved to paint the most and he produced many large and memorable oil paintings of seabirds gliding over tumultuous seas.
For those who knew him he was a kind and generous man with a great sense of humour and an often mischievously witty turn of phrase; a great raconteur who had a seemingly endless fund of stories and anecdotes, drawn from a rich life filled with enviably fascinating adventures. He was a modest and self-deprecating man with infinite charm and was a true gentleman in every sense of the word.
Paul Walkden