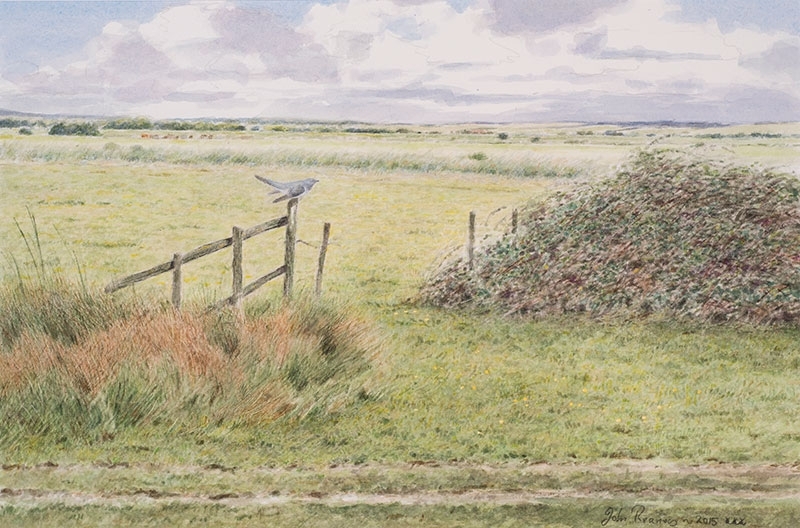 John Reaney
SWLA member 1987 – 2019
After a certain amount of encouragement from birding friends and a couple of successful exhibitions at the RSPB Portslade office, John gave up his day job of eighteen years as a draughtsman in the electronics industry, to become a freelance artist. He had studied art at evening classes for three years where he was able to experiment with various media, before finally plumping for pastels. This proved to be a good choice, ideally suited to his favourite subjects, evening landscapes where colours merge, form softens and outlines blur.
In the field, John would make meticulous sketches of the landscape with details and written notes of its various elements and of course of the mammal or bird subjects. Back in his home in Brighton he would carefully compose his painting, skilfully placing the elements and subject to faithfully reflect his memory of the encounter. Landscape and animal subject were conceived together, both having equal importance. John had a way of drawing you the viewer in, you were there with him, sitting quietly in the corner of the field in the fading light, absorbing the atmosphere, awaiting the emergence of a badger, or for a fox to slip silently down the hedge line.
The influence of his favourite painters, the Impressionists, can be seen in John's pastels. He would work on toned pastel paper, building the image from touches of colour to create a surface that vibrates.
I first met John in the 1970s when he started showing his work in an annual exhibition and sale of Wildlife Art which I organised for the Sussex Wildlife Trust at their headquarters at Woods Mill, Henfield. His work looked good on the walls of the ancient mill and mill house and we sold several.
In 1983 the RSPB commissioned a series of pastels of some of their reserves around the county and they were used in a calendar and a book. Further commissions followed and his watercolours, pastels and pen and ink drawings can be found in a number of publications. 1986 saw the publication of Nicholas Hammond's lavish book ​"Twentieth Century Wildlife Artists" which included a chapter on John and his work. The same year he had work accepted for the Society of Wildlife Artists Exhibition and the following year he was elected a member.
Robert Greenhalf