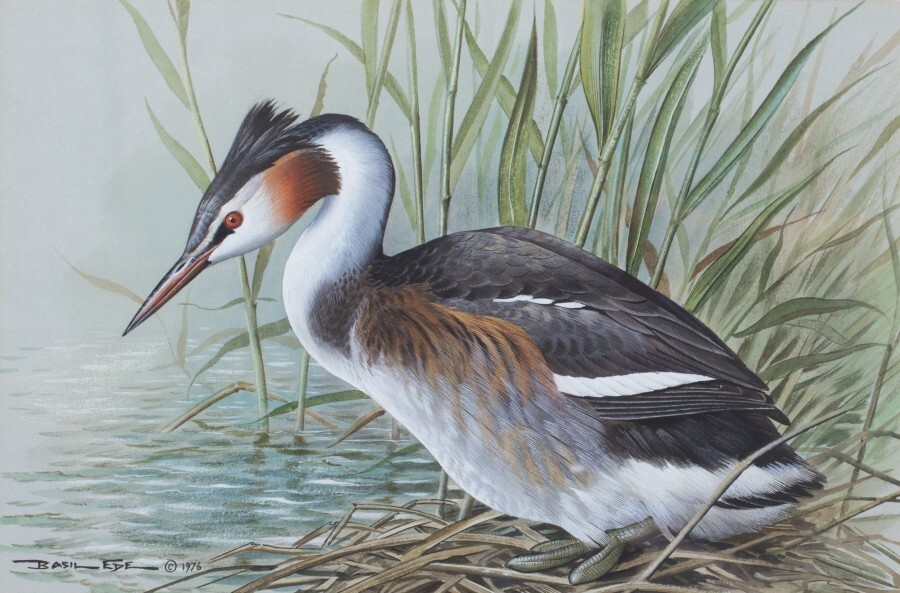 Basil Ede 1931–2016
SWLA Founder member 1964–2016
Born in 1931 at Fetcham, Surrey, Basil Ede trained at Kingston School of Art. Whilst working for the Cunard Line in their London office, he spent much of his spare time painting wildlife and he had his first one-man exhibition at the Rowland Ward Gallery, London in1958. Further shows at the Tryon Gallery in 1960 and 1962 established Ede as a foremost exponent of bird portraiture, and in 1964 he was honoured with a major exhibition at the National Collection of Fine Arts at the Smithsonian Institution, Washington D.C. the first living artist to do so.
In 1965 Ede's first book ​'Birds of Town and Village'was published by Country Life Books, featuring fifty-six portraits of British species and with a foreword by Prince Philip, The Duke of Edinburgh, an admirer of Basil's work.
In 1971 Basil was commissioned to paint the birds of Eastern Pennsylvania by the late Hon. Walter Annenberg, a noted art collector. From 1976 till the late 1980s, Basil was occupied researching and painting the Wild Birds of America commissioned by industrialist Jack W. Warner for the Warner Collection, Tuscaloosa, Alabama. The book ​'The Wild Birds of America- The Art of Basil Ede'was published in 1991.
Earlier, in 1989, Basil suffered a life-threatening stroke, which resulted in the loss of the use of his right side, including the hand which was so adept at painting the microscopic detail for which he was so well known. After a two-year struggle, he taught himself to paint with his left hand and by 1992 he was exhibiting again with the Tryon Gallery in London, and with the Southeastern Wildlife Exposition in Charleston, South Carolina where he was honoured with a Lifetime Achievement Award. Basil Ede continued to live and work near Lewes in Sussex, until his death in 2016.