Published on Sunday, 1 November 2020
| SWLA News
| Announcements
SWLA Outstanding Contribution to Art and Nature Award
In recent months as one of the few positive effects from the pandemic, the value of creativity and the benefits of the natural world have come into sharp focus. Lockdown curtailed the ​'normal life' for so many and people who may not have had time to notice suddenly realised that nature was on their doorstep. Even those of us who are already inspired and heartened by nature have become greatly more aware of its importance.

It is during such times that one has time to consider and get a perspective on what is important within our lives and the SWLA Council is no exception. With this in mind, the Society of Wildlife Artists would like to acknowledge the huge contribution that Robert Gillmor has made to art and nature not only through founding and being President of the SWLA but through a myriad of other associations with charities and conservation bodies.
The body of work that Robert has put into The Natural Eye this year shows his determination to continue to create outstanding art even if it required using a different approach to achieve it. He is truly an inspiration.
The SWLA Outstanding Contribution to Art and Nature Award will be bestowed to others in the future no doubt but we can confidently say that as the first recipient Robert will be a very hard act to follow.
Harriet Mead · PRESIDENT SWLA
Robert Gillmor
MBE
Robert Gillmor is an extraordinary man. As an artist, he is an undisputed master in his chosen field, yet his achievements go far further than the maker of beautiful illustrations, paintings and prints. In a career that fledged in the 1950s and still flies high in 2020, his endeavours for nearly seventy years have encompassed the worlds of ornithology, conservation and art. His contributions to many conservation organisations and to the ornithological and art communities nationwide have been immeasurable. His efforts to promote and encourage natural history-themed art have made a lasting impact and have shaped the visions of future generations, and his contribution to wildlife art in Britain is unparalleled.
As a prolific artist, Robert has illustrated over 150 books and his work has set new standards. He was art editor for the monumental nine-volume series, The Handbook of Birds of the Western Palearctic, and he has designed over 50 covers for the prestigious Collins New Naturalist Series.
Robert was at the fore in establishing the Society of Wildlife Artists in 1964, and he has served its interests continually since. As president, he guided the society towards becoming a charity in 1991 and establishing a bursary scheme for young artists in 1993.
Robert has served on the councils of the Royal Society for the Protection of Birds (RSPB), the British Trust for Ornithology (BTO) and the British Ornithologists' Union (BOU), and has received the highest awards from all three organisations for services to ornithology and bird conservation.
As a field ornithologist, he was instrumental in establishing the Cape Clear Bird Observatory becoming a founder member when he and a group of friends bought the building on the remote Irish island that later became the observatory.
Robert has had a leading role in promoting the British Birdwatching Fair through his annual design of the themed artwork until stepping back a few years ago. Also, Robert has had a particularly long association with the scientific journal British Birds becoming the art consultant and introducing the BB Bird Illustrator of the Year Award, which ran from 1979 to 2002.
In recognition of Robert's outstanding services to art and conservation, the Queen honoured the artist with an MBE in 2015.

Robert saw his first image in print at the age of 13. It was a design for the 1949 Annual Report for the Reading Ornithological Club and he has illustrated every cover since. That's 70 consecutive designs.
In 1952, still only 16, his bird illustrations appeared in national publications for the first time when he submitted a series of black and white figures of shearwaters and magpies for the journal British Birds. Gillmor illustrated his first book, A Study of Blackbirds by David Snow in 1958, and he has now contributed to over 150 books.
Many of these publications demanded monochrome figures, and as a black and white illustrator, Gillmor has no peers. His work shows a richness of tone and texture married with a harmonious design that consistently delights the eye and always meets the exacting brief of authors.
Robert Gillmor's watercolours display a similar elegant design and his paintings for The Handbook of Herons of the World (1976) set new standards for bird illustration. His style has been much mimicked but never bettered.
Gillmor was appointed art editor (unpaid) to the monumental nine-volume series: The Handbook of Birds of the Western Palearctic (BWP). From its inception in 1970, it was the most ambitious publishing project on European birds ever mounted. The final volume was printed in 1994 to huge acclaim.
Gillmor's artistic output in latter years has been dedicated to printmaking and they are of the highest quality. In 1985, after the death of artist Clifford Ellis, Collins publishers asked Robert Gillmor to continue the cover designs for the prestigious New Naturalist Series. He has now illustrated over fifty covers and the complexity and intricacies of design, some using as many as eight coloured blocks, represent some of the most beautiful and technically accomplished of book designs in modern publishing.
Gillmor in his eighties continued to produce artwork for a long-running commission from The Royal Mail with a series of stamp designs for Post & Go Birds of Britain.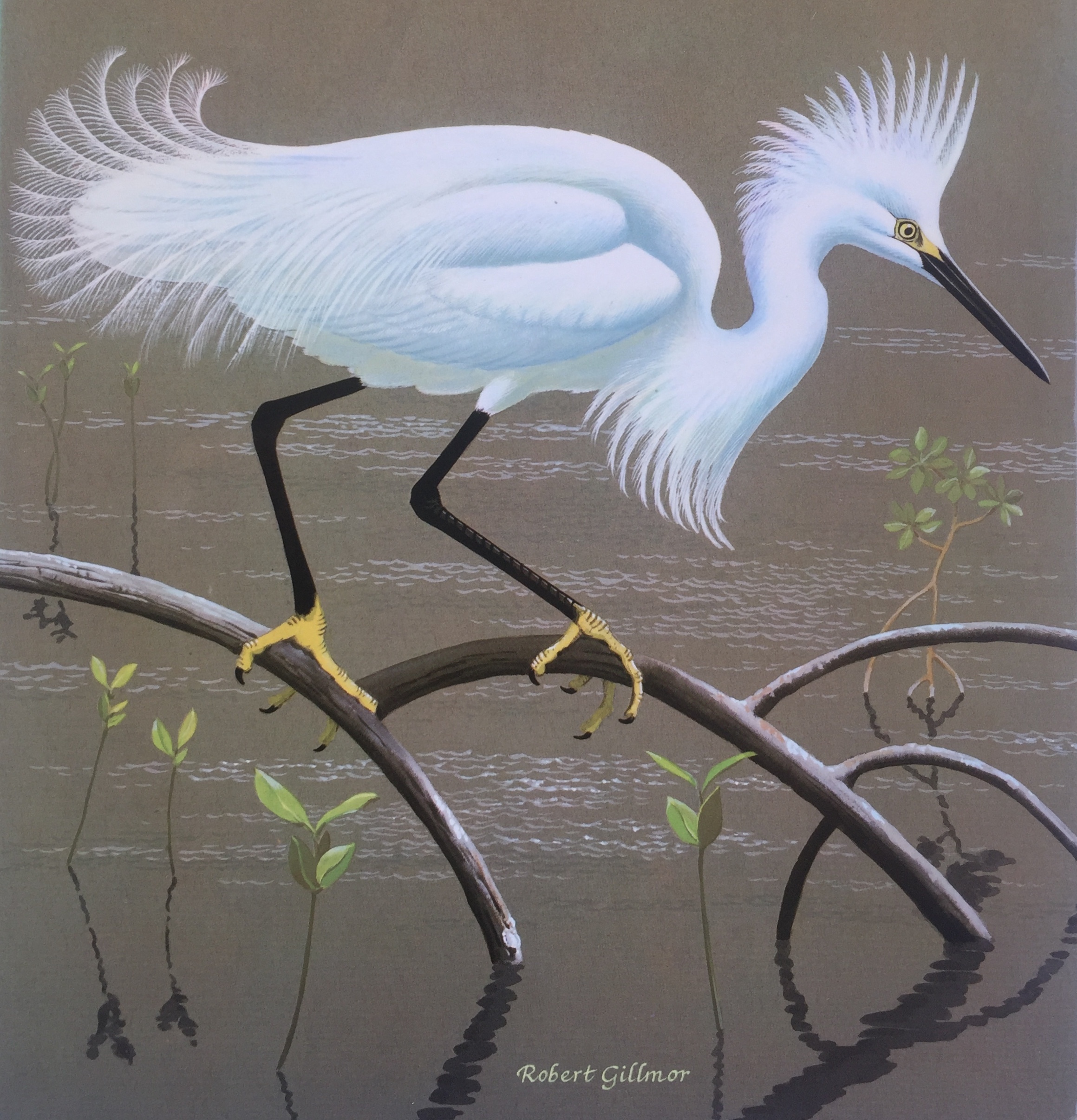 With a society of artists in mind, Robert Gillmor with the enthusiastic support of Sir Peter Scott, Keith Shackleton and Eric Ennion, organised an exhibition of contemporary bird paintings in the Reading Art Gallery in 1960. Maurice Bradshaw, then Director of the Art Exhibitions Bureau, joined the organising committee and as a result, the Bureau took this exhibition on tour for a year, and such was the interest shown by provincial galleries that the tour was extended for a further year.
Robert Gillmor invited Richard Talbot-Kelly and Maurice Wilson to help plan a society and invite founder members. The inaugural exhibition of the Society of Wildlife Artists (SWLA) was held in London and opened by prominent ornithologist James Fisher in August 1964. The exhibition featured 149 works by 35 founder members. By 2010 there were 350 works selected for its annual exhibition in the Mall Galleries, London and the Society currently has 75 elected members.
From its inception, Robert Gillmor has been the energy and guiding hand of the SWLA. He initially took the position of Secretary to the society (1964–1974), then Chairman (1974–1984). He was elected President and served two terms from 1984–1994. (For the years 1964–1994 all notes, circulars and newsletters were handwritten by RG.)
Under Gillmor's Presidency, the SWLA enjoyed both a boom in popularity and an enhancement of status, with ever-increasing numbers visiting the annual exhibition. Gillmor was directly responsible for raising the profile of the society with a new logo (his design) and the forging of close ties with many conservation groups as sponsors of awards at the Mall Galleries show. New awards were offered to artists from the RSPB and The Natural World, the magazine of the Wildlife Trusts. (This started a trend with over 6 awards given annually, as well as many charities now opting for fundraising events held during the show).
During his Presidency, in 1991, the Society of Wildlife Artists became a Registered Charity for the purpose of fostering and encouraging all forms of visual art based on the world's wildlife. The Society actively seeks to generate an appreciation of the natural world and advance the interest, education and conservation of wildlife. In pursuit of these objectives, the Society undertakes various activities to support and promote arts-based objectives of other conservation and wildlife charities.
Robert Gillmor was always eager to encourage young artists and he approached James Cooper (Chief Executive, Lloyds Private Banking) with an initiative to foster new talent. Through a sponsorship agreement with Lloyds, a joint Bursary scheme was established in 1993. Since then almost 100 bursaries of between £150 and £500 have been awarded. With the addition of legacies and other monies, the Society of Wildlife Artists Bursaries continues to help young artists keen to develop their knowledge and skills in wildlife art.
Since 1994 Gillmor has been the Society's Vice President, and he is still a valued member of the SWLA council. All catalogues to exhibitions up to 2009 were designed by RG, and until 2012 he had overseen the hanging of every exhibition.