Published on Thursday, 15 October 2020
| SWLA News
| Exhibitions
Inspiration During Lockdown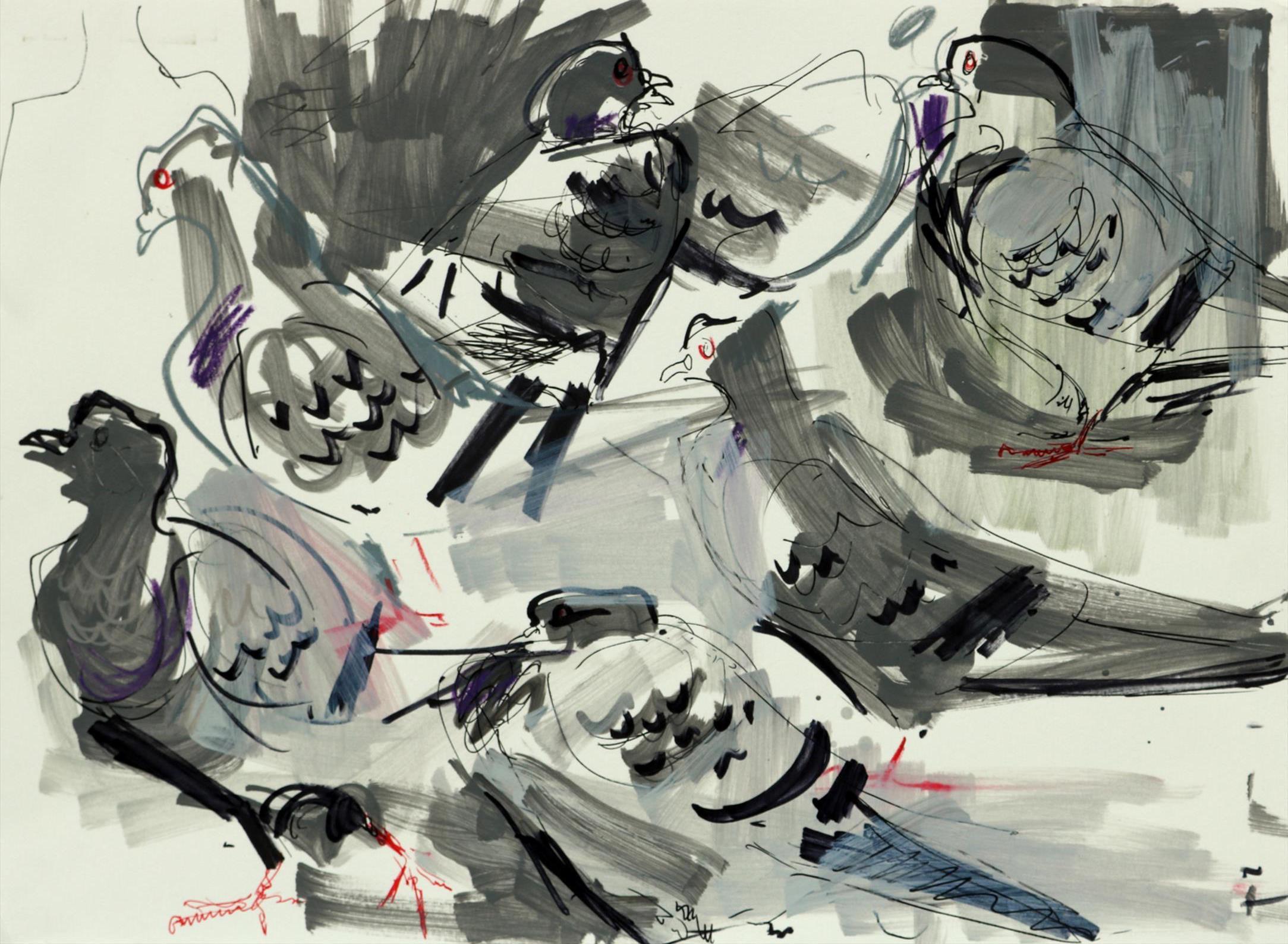 During these difficult times it is unsurprising that many artists exhibiting at The Natural Eye exhibition have looked closer to home for their inspiration. There are all sorts of creatures that live on our doorsteps but birds tend to be the easiest to see and some species are very widespread.

Perhaps the first common birds to spring to mind would be pigeons and sparrows. Nik Pollard has captured the energy and movement of a flock of feral pigeons and both Tim Wootton and Darren Woodhead have delighted in their local house sparrows.
We're lucky to have a heathy population of house sparrows which live around the property at home - there's always chicken grain as well as the bird feeders to attract them and my studio is an old stone cottage which would benefit from pointing, but the holes in the walls are perfect for house sparrows, so I'll leave it.


Tim Wootton
Artists Robert Gillmor, Robert Greenhalf, Nick Derry and Richard Allen have each created work inspired by another lovely garden bird-the blackbird. Other garden visitors have proved inspiring for Johnnie Foker, Chris Sinden, Carry Akroyd and Brin Edwards.
Sculptor Harriet Mead has been watching grey squirrels taking walnuts from a tree in her garden. She used old auger bits, heated and bent to create its tail and lots of spanners in its body. A frog was another garden visitor in which spanners formed key components.
Nick Bibby has elevated the humble snail to a precious object by casting his sculpture in silver and celebrating the beauty of this everyday creature. Ceramic sculptor Simon Griffiths has chosen to create a portrait of a fox in clay, making use of oxides and slips to colour the piece.

Mothtraps and microscopes have come in useful for some of our artists. Amongst others Julia Manning, Matt Underwood, Richard Tratt and Lisa Hooper have been taking a close look at lepitoptera and Nick Derry has gone to the microscopic level to depict a tardigrade or water bear.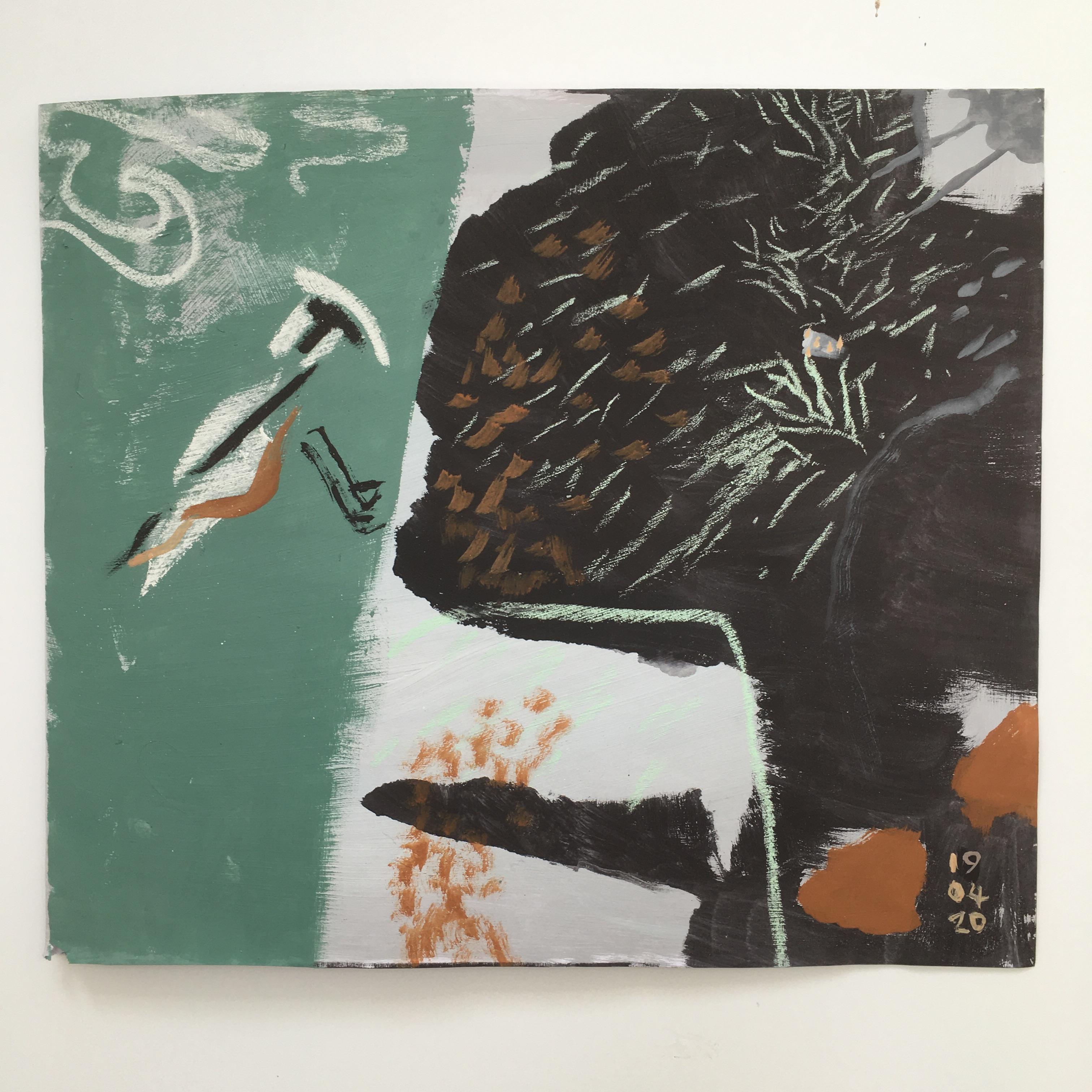 Wheatears drop out of sight, and all you often see is the tail pattern. It's enough to tell you that Spring has arrived on the headland!


Kim Atkinson
Some artists live in extraordinarily beautiful areas so that their back gardens are wild and wonderful places. Kim Atkinson has been watching wheatears and other wildlife from her coastal spot in Wales and past President Andrew Stock has been exploring the tidal river at the bottom of his garden in Dorset.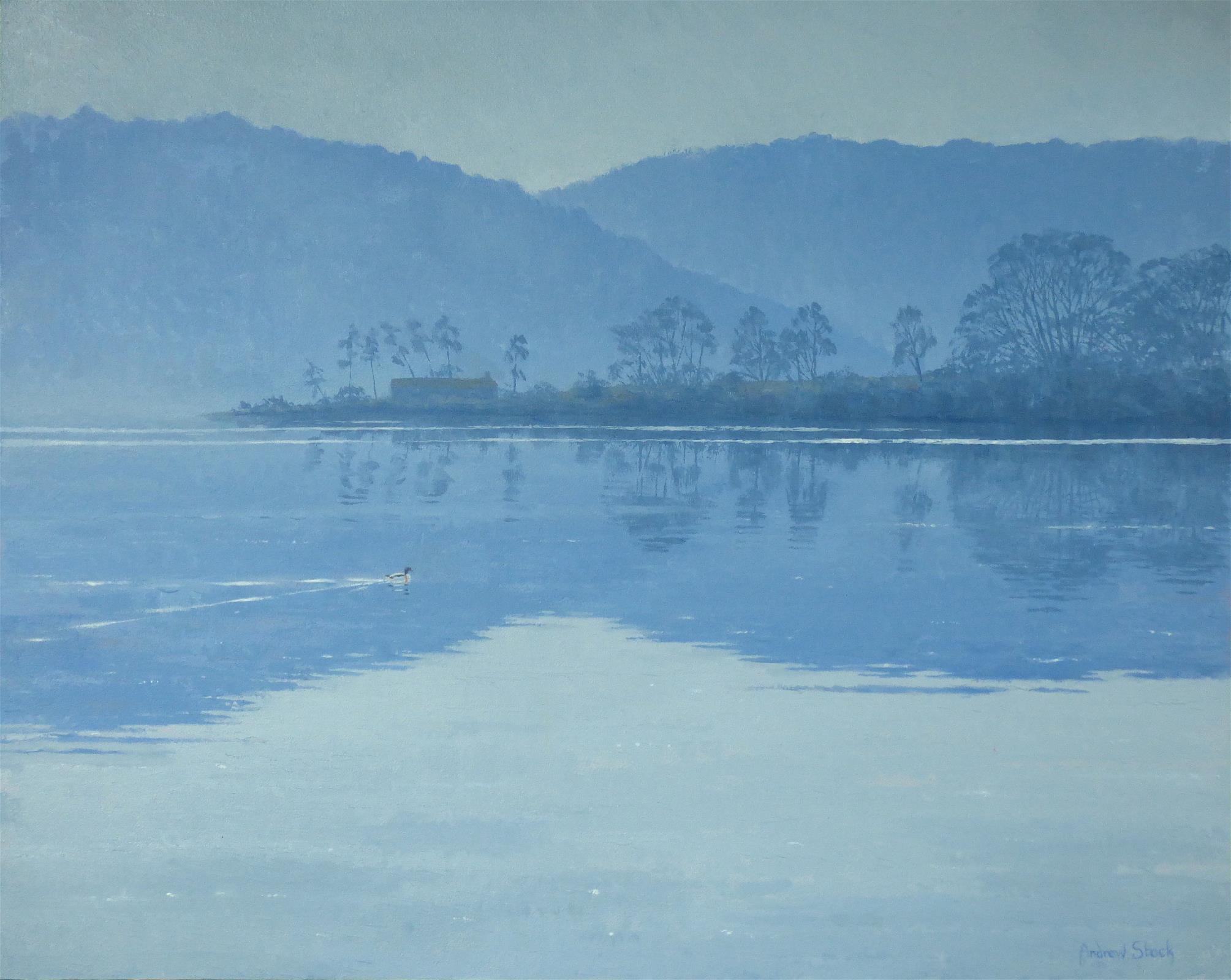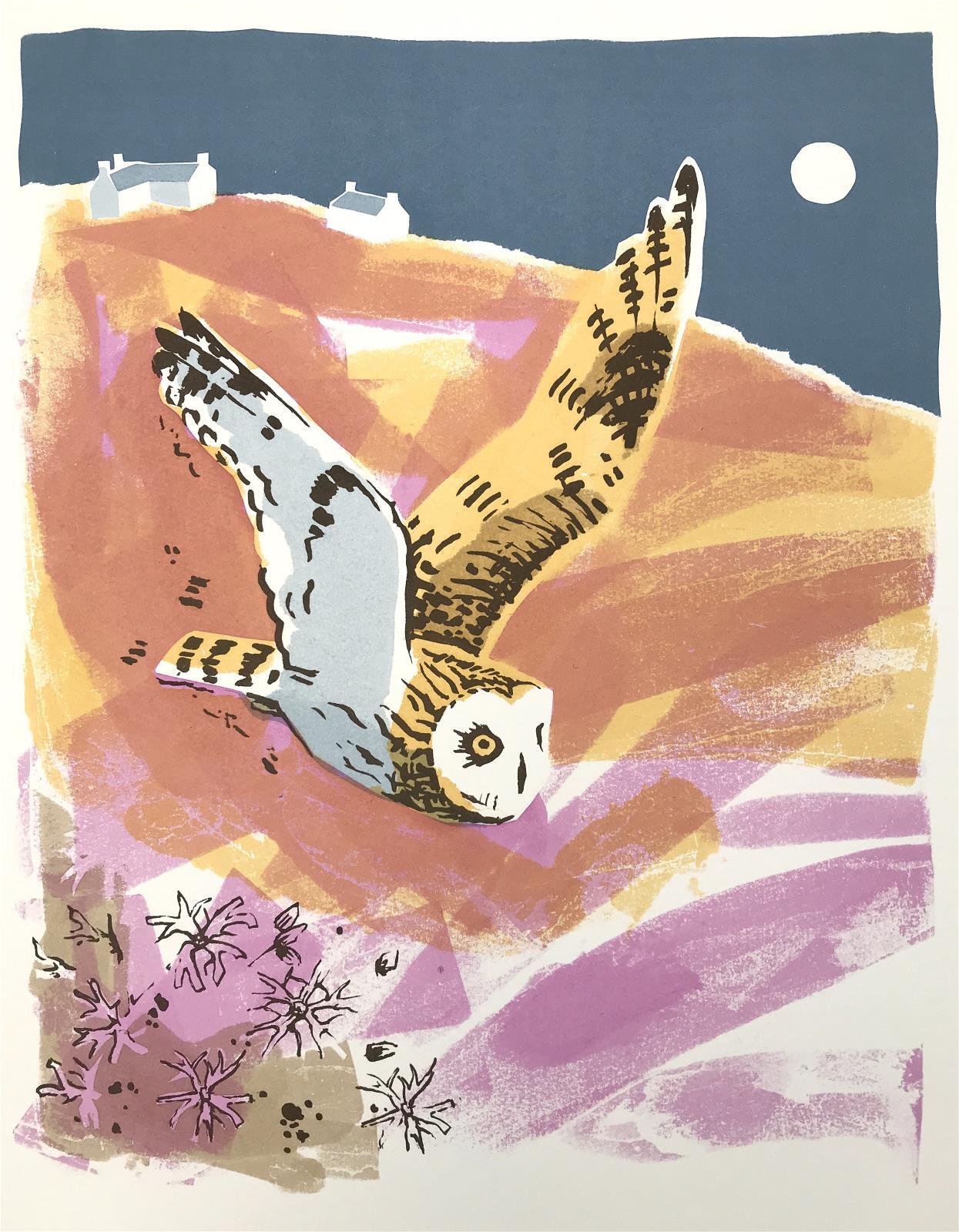 Jane Smith has access to stunning landscapes and wildlife on the east coast of Scotland and has created a piece from her observations of a short eared owl hunting, whilst Marco Brodde has also been inspired by a bird of prey when spending time minutes from home watching birds in the Wadden Sea in Denmark.
Wherever these artist have been lockdown they have all still managed to find beauty and delight in their surroundings however humble or magnificent they may be.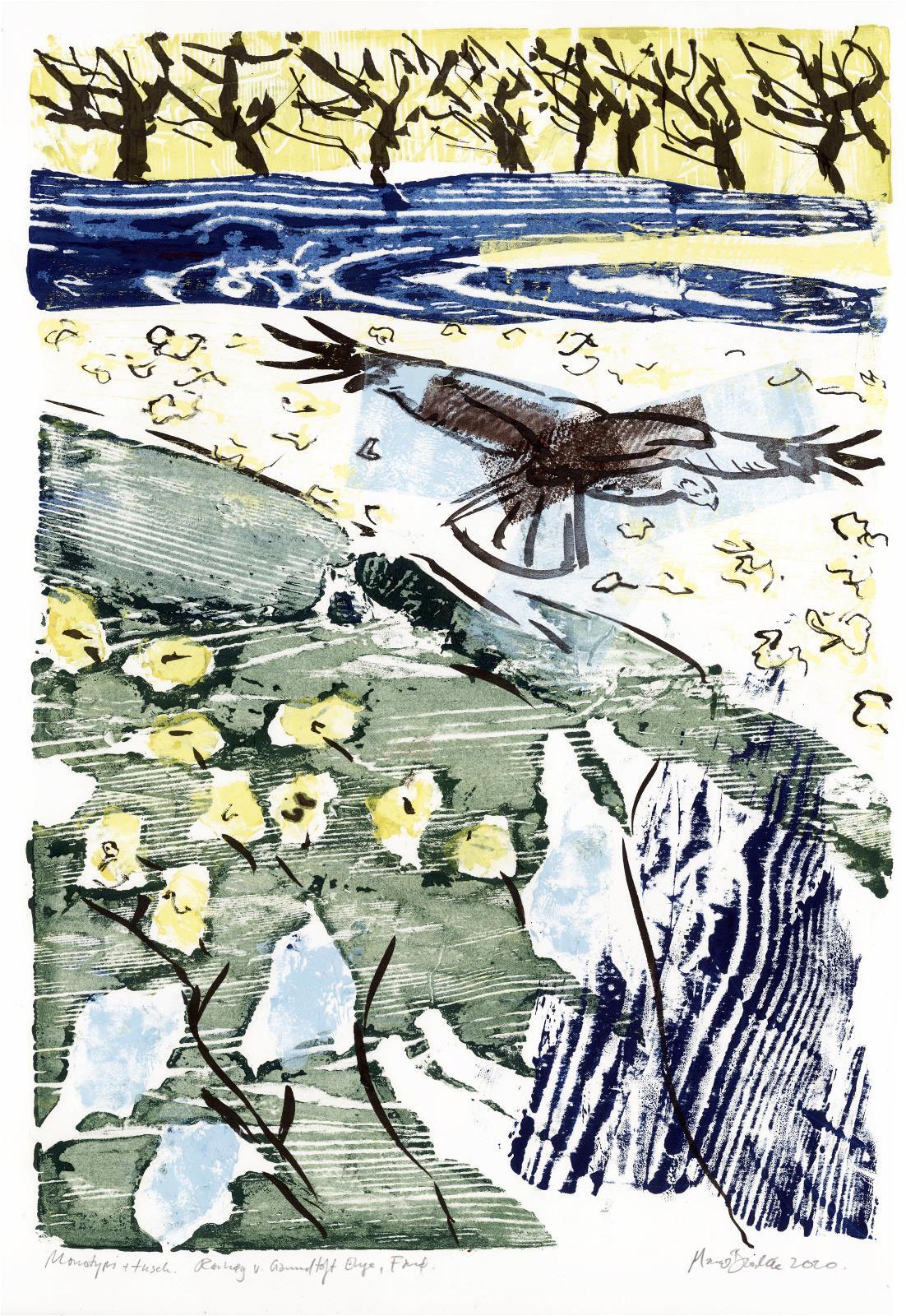 The Natural Eye exhibition will take place from 28 October to 8th November at Mall Galleries. To see the work in person you can book a ticket or see the exhibition on line here.