Published on Tuesday, 23 June 2020
| Members' News
Friends of SWLA: Studio Visit with Carry Akroyd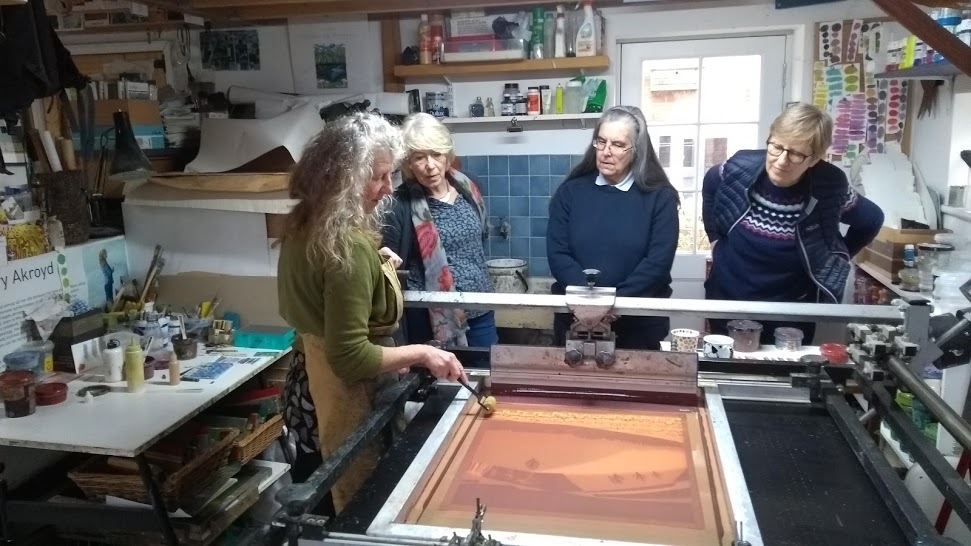 Last month Carry and her husband Gordon, welcomed a group of nine Friends to their delightful home and studio in rural Northamptonshire. It was held just before we were plunged into restrictions by Coronavirus and so for many was probably the last memorable gathering we were part of. Upon arrival, as we chatted over coffee and admired the artworks on display around the house, it was immediately clear that we were in for a real treat.
Once everyone had assembled, we moved into Carry's spacious and airy studio which we were assured had been specially tidied for the occasion! It certainly looked very orderly despite the wealth of artists' clutter: pots of brushes and paints, colour test strips, works both finished and in progress, sketchbooks, displays of cards etc., all dominated by a large screen printing table.
Carry had planned a print of a winter landscape using a palette of earthy tones, and to incorporate her characteristic cut out trees with a trademark ​"Carry fox" under a late afternoon sky and prominent moon. We were talked through the process of making a tissue paper stencil based on the planning drawing. The first colour is printed onto this before using clean sheets of art paper to print the edition one colour at a time. Carry mixed the next colour for printing and we were able to see how it was drawn across the screen using a squeegee. Many of us were amazed to learn of the vacuum process also happening under the screen on the table, whereby the ink is drawn down onto the paper. The screen was raised to reveal a beautiful print in progress to be set into the drying rack whilst another was printed. We were then shown how other features could be added by hand and smaller areas of paint manipulated with such essential tools as a roller or even an AA membership card! It was fascinating to see how the design could evolve through the various stages of printing as problems were encountered and creatively resolved.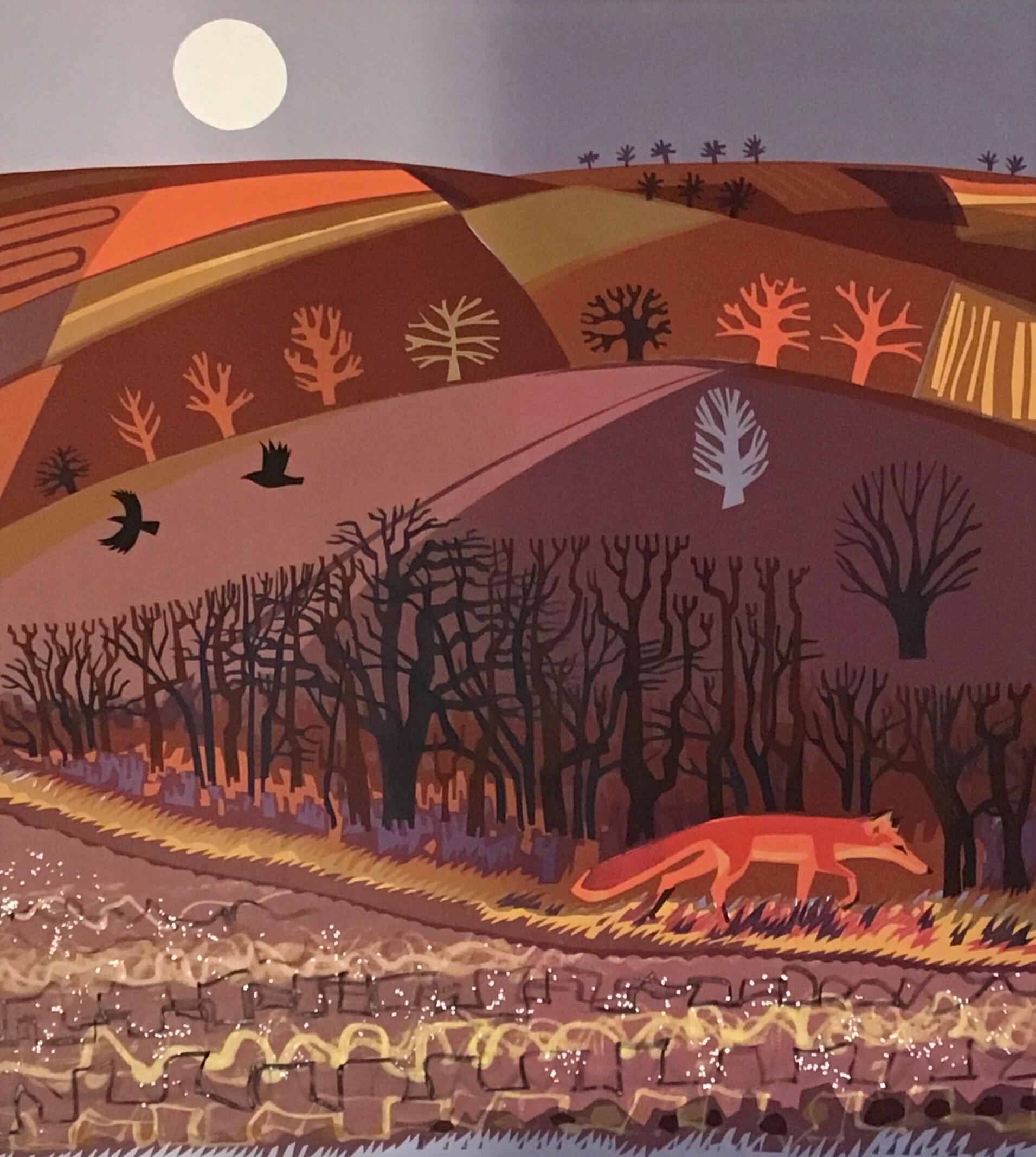 Following this we adjourned to the house for a hearty lunch of bread and soup followed by an opportunity to look through a large selection of finished prints which Carry talked about, giving wonderful insights into her inspiration and methods. The recurring theme of contrast between a long-established landscape pattern and the intrusions of modern life, be they wind turbines, lorries on a trunk road or a military helicopter gave us much to think about. Back in the studio there was still more to see and an opportunity to purchase books, cards and finished prints as a souvenir of a most enjoyable and fascinating day. We are all very much indebted to Carry and Gordon for making us so welcome and were also pleased to donate £90 to SWLA funds for bursaries.
Tim Baldwin