Published on Friday, 26 March 2021
| SWLA News
| Announcements
2021 Applications Now Closed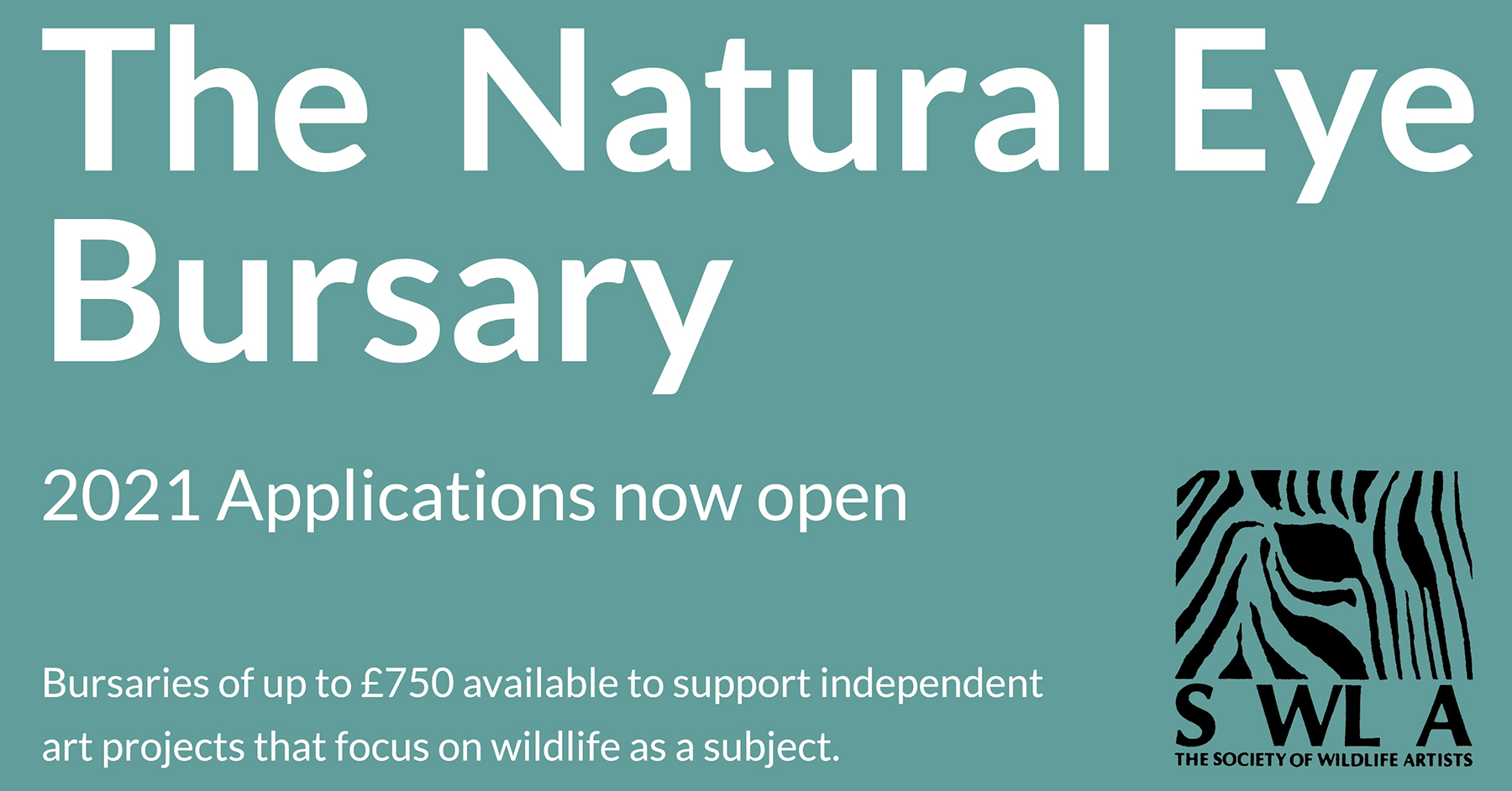 The Society of Wildlife Artists are pleased to announce that applications are now open for The Natural Eye Bursary 2021. Awards of up to £750 are available to artists submitting exceptional proposals to carry out independent projects, research or training in art practices that focus on wildlife as a main subject. This year, the pandemic and subsequent lockdown has meant that many artists have found inspiration in nature. With this in mind, the SWLA are particularly interested in proposals that celebrate the wildlife found close to home, or those by artists who have, perhaps for the first time, discovered a new focus for their work by engaging more with the natural world. Above all, the selectors are looking for proposals that demonstrate a sense of enquiry into the natural world through original and thoughtful creativity that will result in a genuine artistic and personal response to the wildlife subject.
Applications are open via an online application form to all visual artists aged 18 or over working in any medium. Successful applicants will have the opportunity to exhibit an example or examples of their bursary work during The Natural Eye exhibition held annually at the prestigious Mall Galleries in London's West End, and a report of their project will be published on the SWLA website. For many previous bursary winners this exposure has been one of the most valuable outcomes of the scheme, leading to exhibition opportunities and professional relationships that still stand today.
The resultant 2008 exhibition gave me the opportunity to invite peers and contemporaries to see my installation at the gallery — a great space — which led to an invitation to exhibit the work at The Animal Gaze: Contemporary Art & Animal/​Human Studies — Whitechapel

Helen J. Bullard, The Natural Eye Bursary winner 2006, 2007
Previous bursary work has taken shape in a range of different media including; drawing, sculpture, painting, online journals, artist's book-works and installation. Successful proposals will reflect the SWLA's main ethos to generate appreciation and delight in the natural world through fine art. In the past many bursary winners have encapsulated this ethos through projects that enable them to document the experience of wildlife first hand by working from observation in the field. This year however, many of the society's members and associates working under lockdown restrictions have demonstrated how successfully artistic enquiry can capture the awe and wonder found in nature without the need to travel to exotic corners of the world. Other successful bursary projects have focused on artistic development through education, building practical skills and research resulting in remarkable portfolios of work on display at The Natural Eye Exhibition. Gareth Williams' bursary award enabled him to join a print studio for a year and develop his observations of wildlife through print making.
I was able to learn this entirely new way of working, which gave my work a new visual language and, complimented my style

Gareth Williams, The Natural Eye Bursary Winner 2007
Several past bursary winners have gone on to become active members of the SWLA and most if not all have continued to diversify in the arts, often citing their bursary project as a pivotal moment in their practice. Christopher Wallbank (bursary winner 2008) discovered his fascination for combining art with ecology during his project drawing the wildlife of two extremes, depth and altitude, in the Bay of Biscay and Picos de Europa mountain range. He has since gone on to collaborate with several field-based conservation projects, including the long-term monitoring of guillemots, the preservation of urban black kites and as an SWLA member on the Wallasea and Wadensea projects. For Helen J. Bullard the bursary was an opportunity to experiment with large installation, interact with audiences and take risks as a practitioner. This, for Helen, was an absolutely invaluable asset at the time, forming a basis on which to build a working philosophy. Helen's practice continues to focus around interdisciplinary research and Helen is currently Member of Faculty at Milwaukee Institute of Art and Design. Vicky White's bursary enabled her to observe primates in the wild and the subsequent work led to her work with Walker books illustrating the popular Children's title, Ape.
In allowing me to go and spend time with these animals in the wild, and the experiences that resulted, I think the bursaries played a major part in the way I went on to translate them 'onto canvas' and so shaped the way I work today

Vicky White, The Natural Eye Bursary winner 2003, 2004
To apply for The Natural Eye Bursary, read the guidelines and view past winners' bursary reports before following the link to fill out the online application form and upload a maximum of seven example images of your work. Deadline for applications is Tuesday, 1 June 2021. All applicants will be notified of the judging panels decision by 30th June.