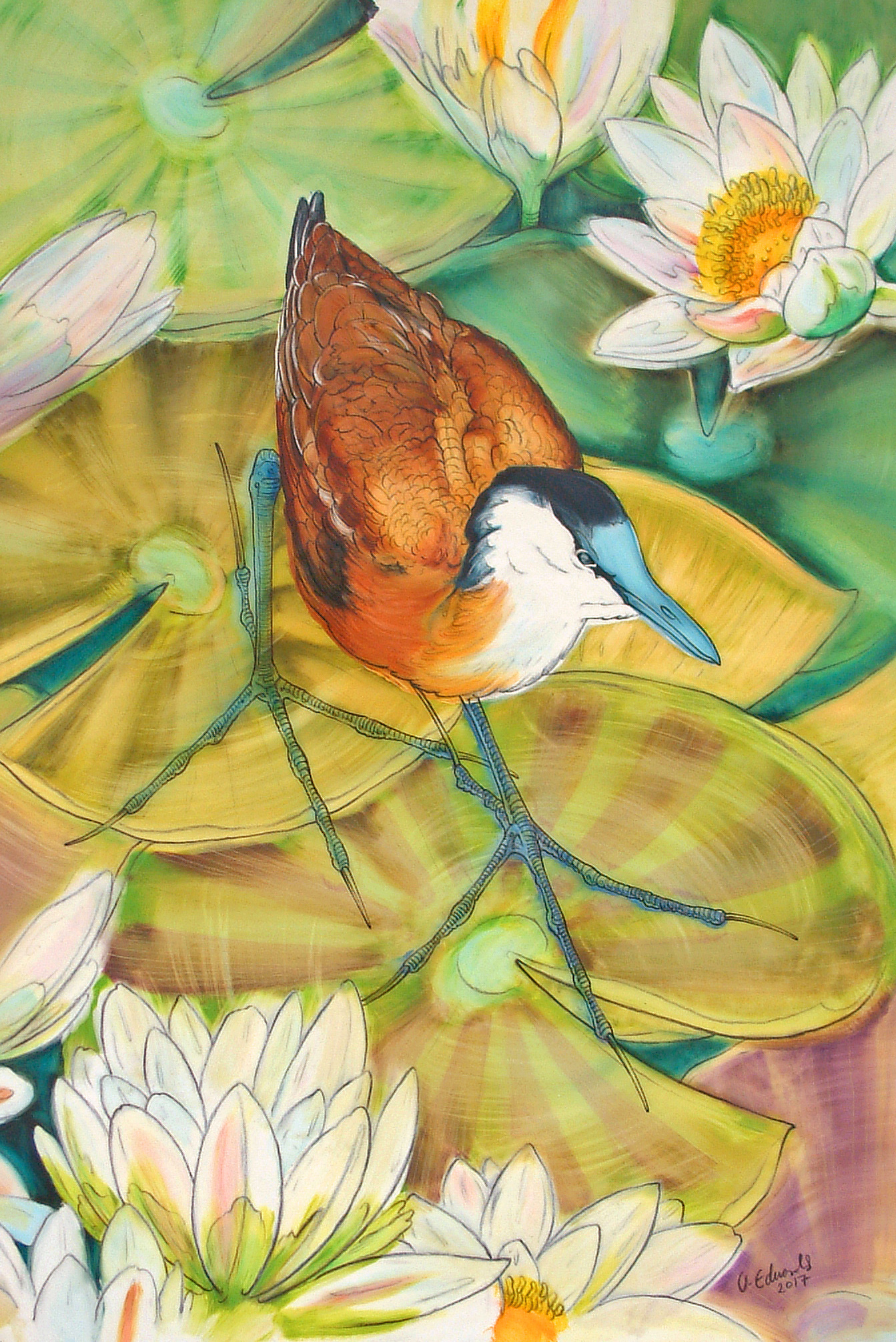 Victoria Edwards
Born in 1974, Victoria lives and works in Kent. She studied at the Kent Institute of Art and Design, the University of Westminster and then at the Royal College of Art, London, where she graduated with a Masters Degree in Natural History Illustration and Ecological Studies.;
Victoria has been a full member of the SWLA since 2005. She studied at theRoyal College of Art, London, graduating with a Masters Degree in Natural History Illustration and Ecological Studies.

Victoria creates work in a variety of media, her main interests being the study of reptiles and birds. Based in Kent, she has discovered many habitats for both native and visiting bird species, whilst also studying the wildlife of many other countries, including the African continent, South America and the Galapagos Islands.

Victoria has worked at the Natural History Museum, London, in the paleontology Department, studying fossilised specimens and creating visual reconstructions of extinct species for the Museum's Picture Library, website and their own publishing division and wider publications. Her work has appeared in publications such as ​'There and Back? – A Celebration of Bird Migration' for Langford Press,'The New Amateur Naturalist' (HarperCollins Publishers), RoyalMail, Lifewatch Magazine for The Zoological Society of London and educational drawing books for Quarto Publishing Plc as well as publishers in North America and Australia.

Regularly exhibiting with the Society of Wildlife Artists, other venues include Fairfax Gallery, Collyer Bristow Gallery, Chem Kim Loke Gallery, Olympia London, Gallery@Oxo on the South Bank, the Explorers Club and Salmagundi Club, New York. She has produced work for exhibitions supporting bodies such as London Zoo, the International Primate Protection League and the Real World Conservation Trust.
Awards include the St Cuthbert's Mill Paper Award and the KPMG Art Award.