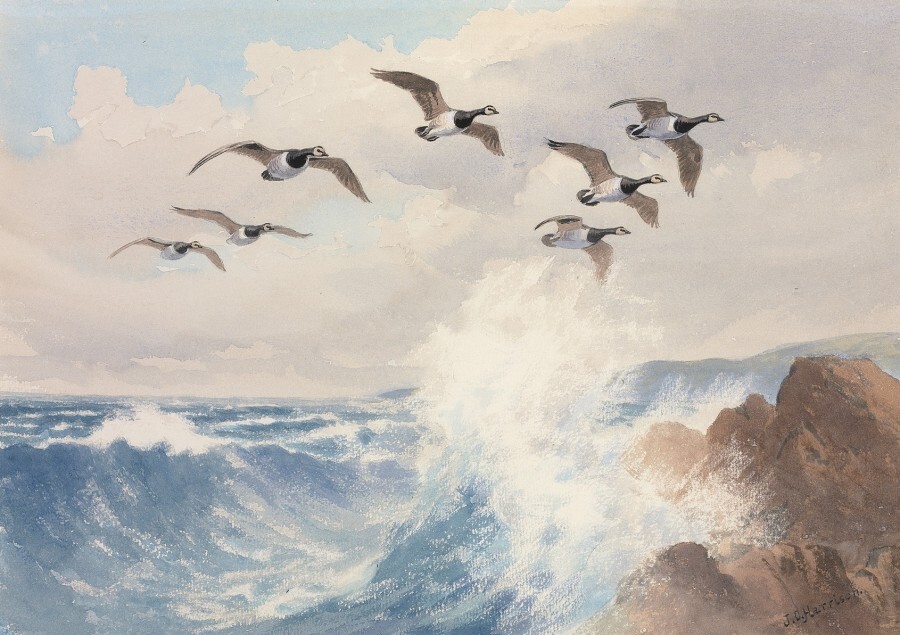 John Cyril Harrison 1898–1985
SWLA Founder member
John Cyril Harrison was born in Wiltshire in 1898. He began drawing as a boy; he also studied and sketched bird life, and learnt anatomy from the practise of taxidermy. After the Great War, he studied art at the Slade School of Art. He regularly visited Scotland, often in the company of Seton Gordon, whose book ​'Days with the Golden Eagle', he illustrated in 1927. He illustrated many other books, with Bird Portraitswas the only book he both wrote and illustrated.
He travelled widely in South Africa, Portuguese East Africa and in Iceland, all experiences which had an impact on his artistic output. He was probably the first artist to specialise in depicting birds in flight and made a special study of the characteristic flight of different species. Where other artists had previously failed to make their birds look alive, let alone flying, he succeeded in the particularly difficult task of convincingly portraying a bird flying directly towards the viewer.
A great admirer of Thorburn and Lodge, Harrison lived in Norfolk for many years and thus had the opportunity to study the many species that live in, or migrate through, that part of England. He made a particular study of game birds (such as partridge and pheasant, grouse and ptarmigan).
Jack Harrison was a prolific painter and active until the last year of his life. He died in 1985.
Paul Walkden