Published on Monday, 28 February 2022
| Announcements
Award Winners at The Natural Eye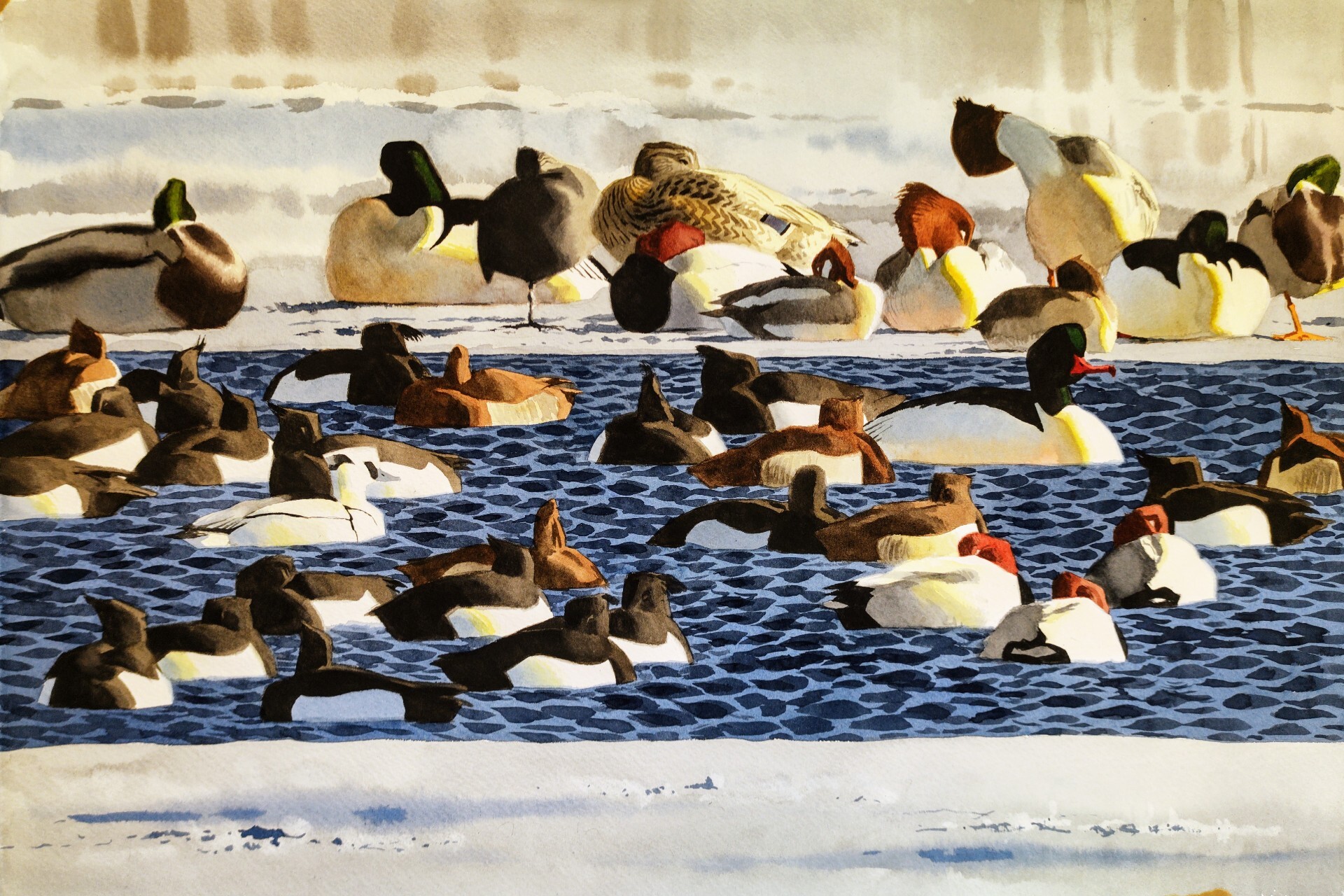 RSPB

Fine Art Award

'Smew Sailing Through' by Ben Woodhams SWLA

'Unusually for me, this painting was done in my warm and wind-free studio. It was the middle of February, freezing cold, and I had spent a couple of days visiting a flooded quarry near the West coast of Bornholm, about half an hour from where I live. The lake was completely frozen, apart from a small opening in the centre, within and around which a large and diverse group of birds gathered. A captive group of models, all looking wonderful in their fresh new plumage against the whites, blues, and greys of the ice and water.

I made lots of sketches and colour studies, trying to capture the low milky light and the saturated colours. I was particularly attracted to the ripples in the water and the shapes of the sleeping ducks. At one point a smew drake sailed majestically through the sleeping tufted ducks and it just looked magnificent.

I wasn't happy with the field paintings I did on the first day — I was unprepared and it was too cold. On the second day I was more wrapped up but the light had changed and drained the dramatic colours — a completely different place. I decided that I would try to make a studio painting where the aristocratic personality of the smew drake, together with the light and the saturated colours, would be the focus of the composition. I don't really do this sort of ​'planned' painting that much, but I enjoyed playing around with the composition and moving the actors around.'

BW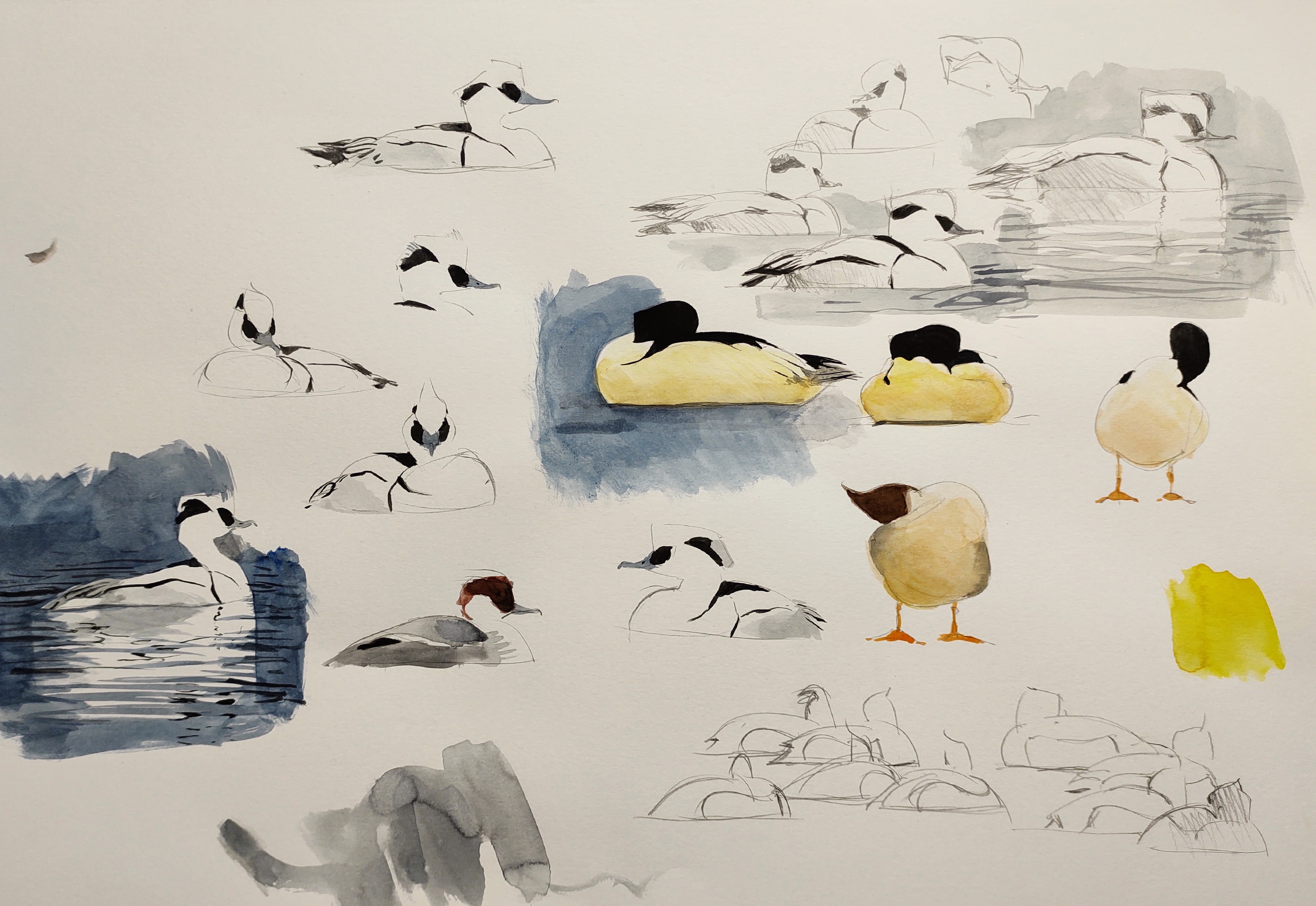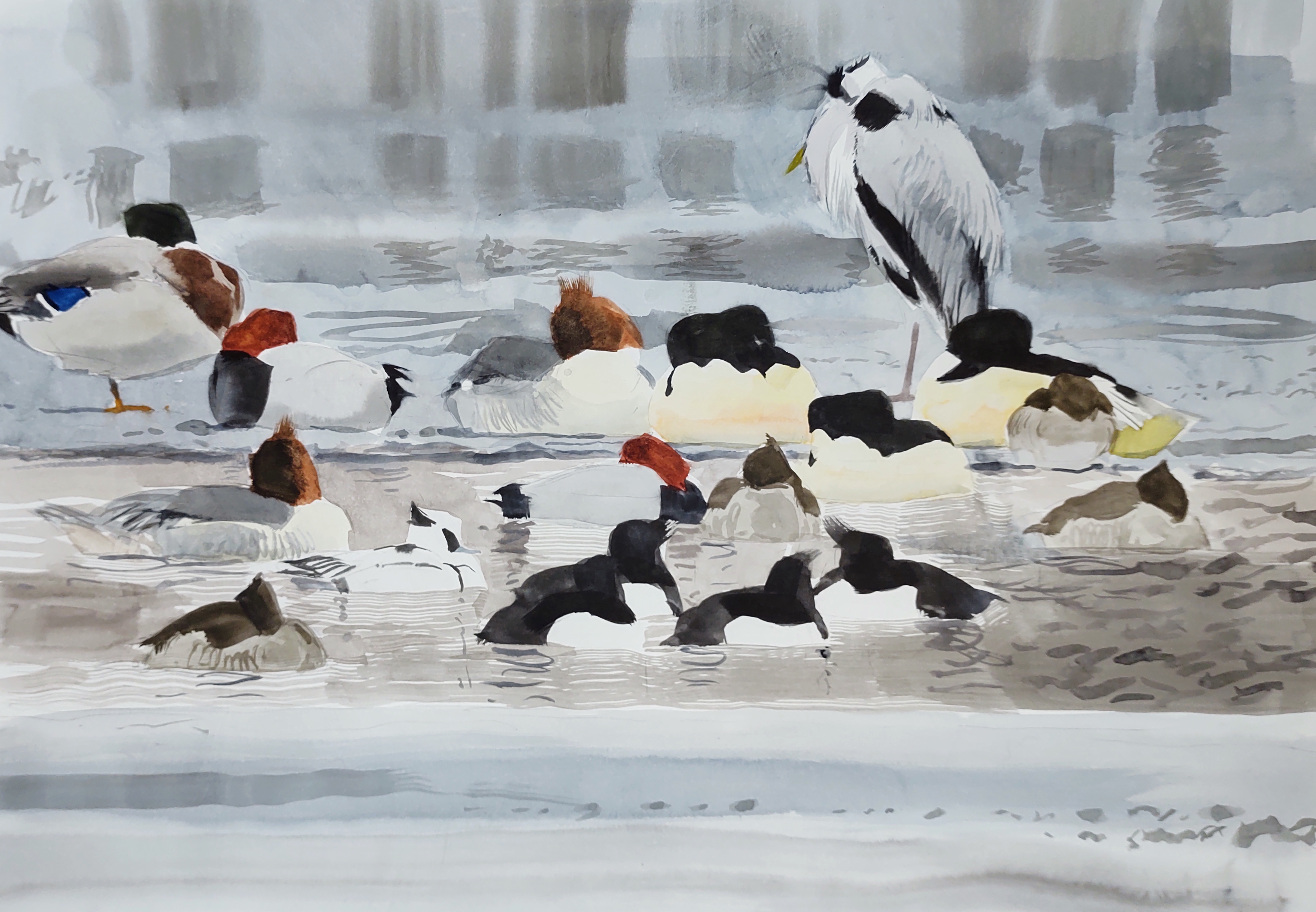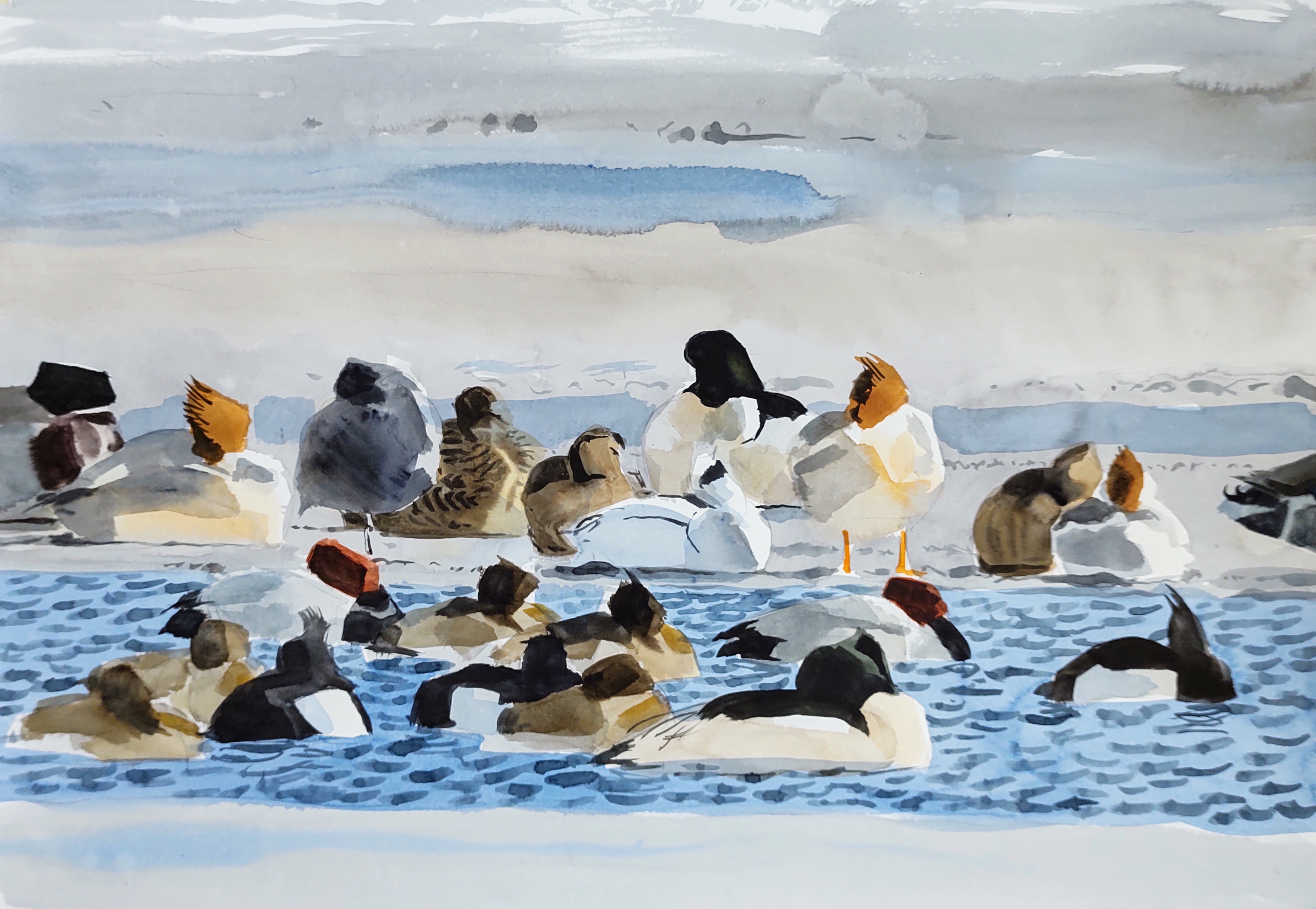 Birdwatch Swarovski Optik Award
'Across The Bay' by Liz Myhill RSW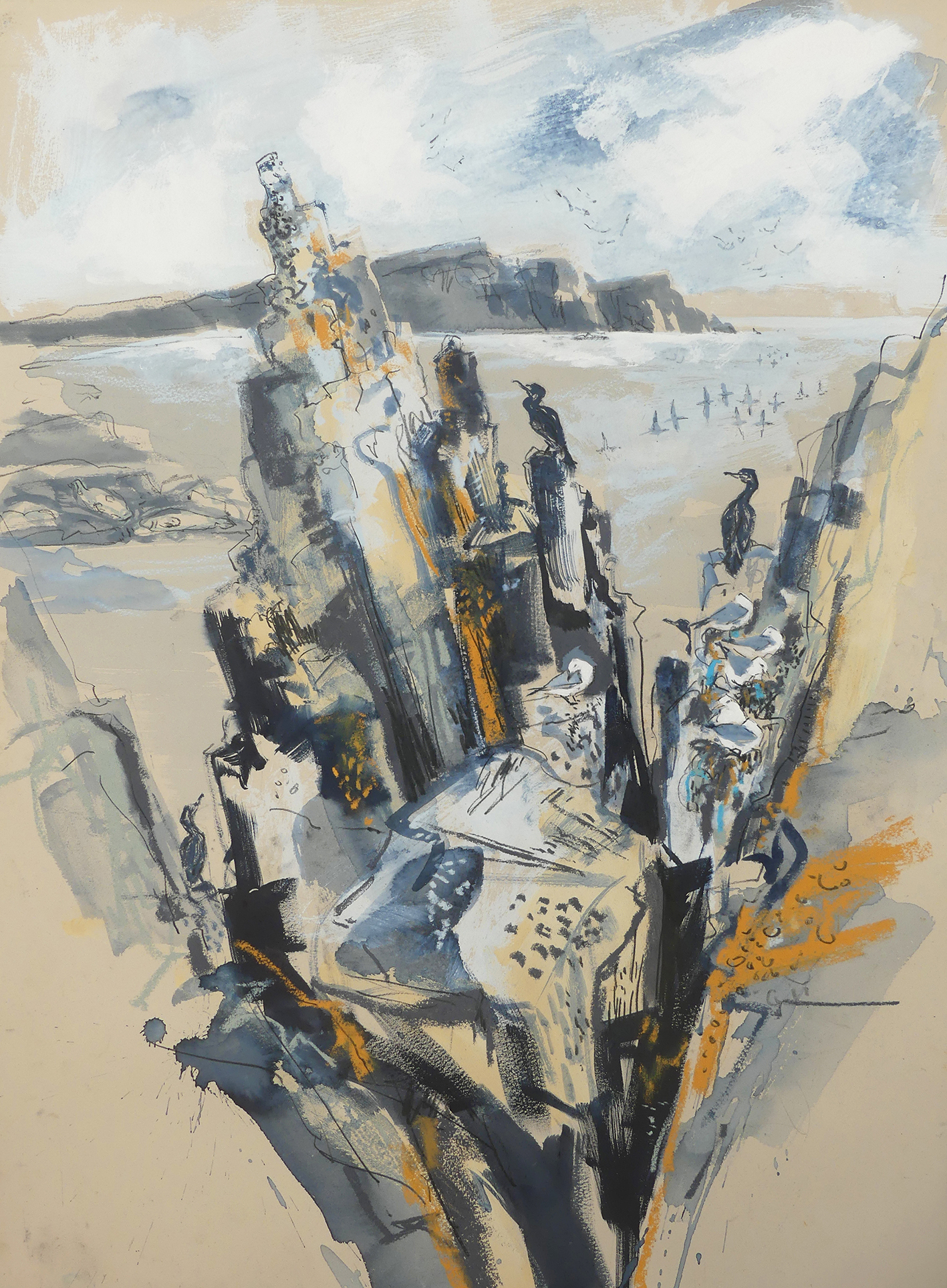 'I was absolutely delighted to receive the Birdwatch and Swarovski Optik Artist of the Year Award, especially as the subject is a place I have known and loved since childhood on the Isle of Skye.
The location is a slender headland that marks the point where a sheltered sea loch begins to open out into the deep, rich waters of the Minch. To one side a shallow bay gently sweeps around while in the other direction lie cliffs and crags that present an altogether more rugged landscape in which to hunker down and draw. It is a place I've returned to time and again over the years but particularly more recently as I became fascinated by recording the many facets of its character and how they piece together.
It was a joy to be able to put the scope received as part of this award to use over the winter and make new discoveries in this small but precious place that continually reveals new and unexpected aspects of itself if you are content to sit and watch and wait.'
LM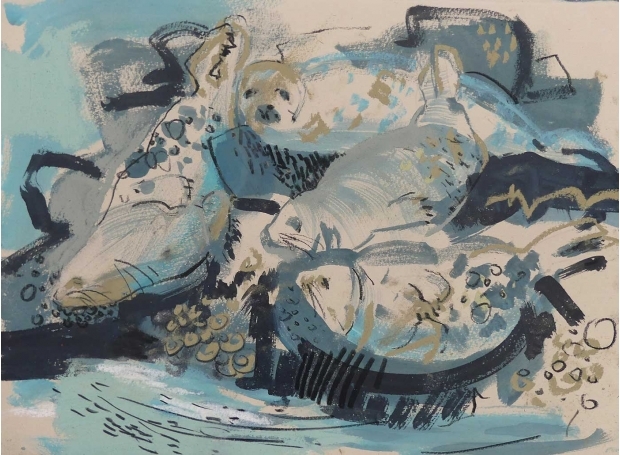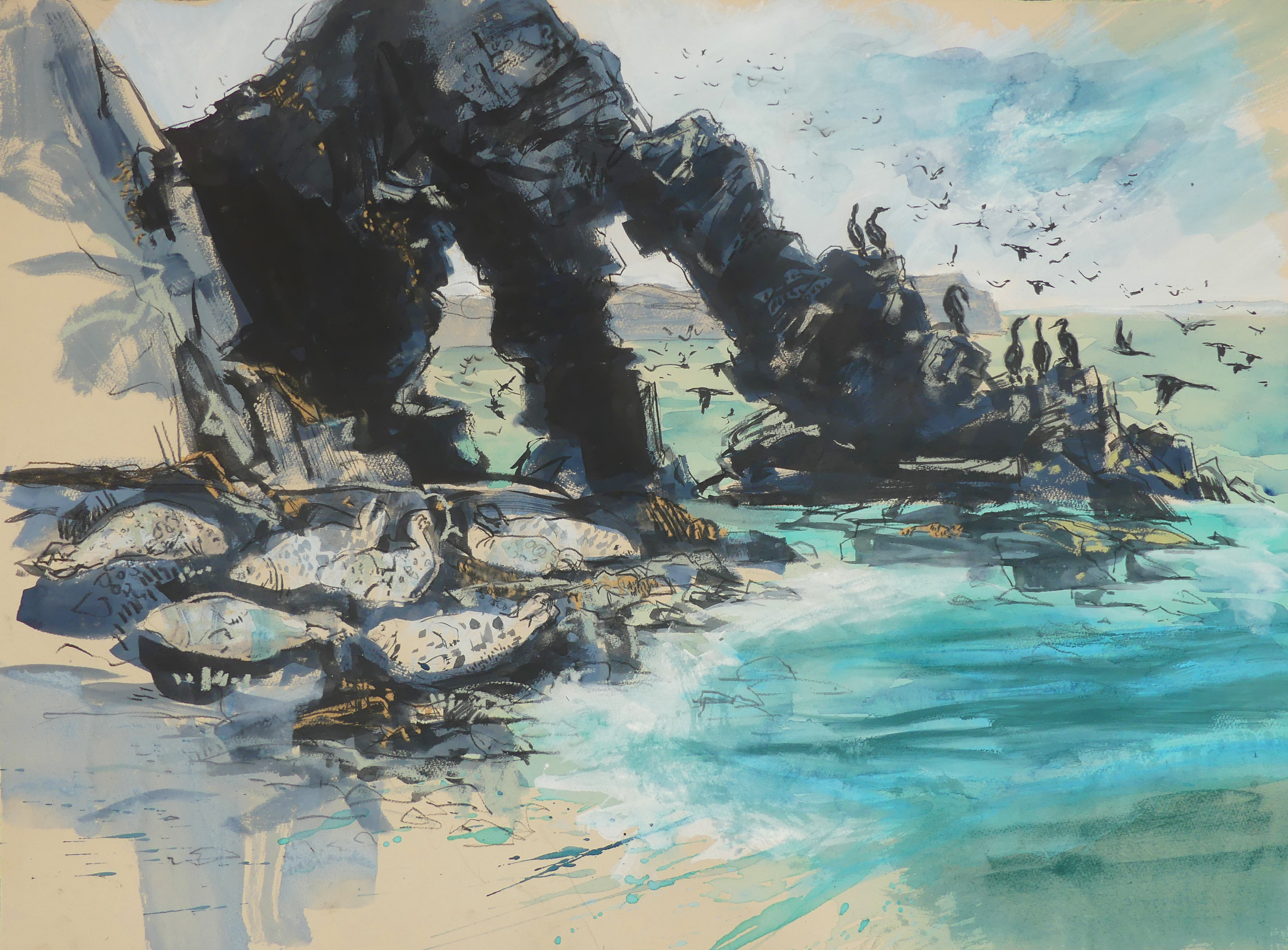 Birdscapes Gallery Conservation Through Art Award
Julia Manning RE SWLA
'Walking into to our exhibition at the Mall Galleries was extraordinary. I had no idea that it had been hung so amazingly, and of all the discussions and thoughts of council behind the scenes. I wandered into the main room to where the prints are usually hanging and wondered where mine were, then Bruce Pearson congratulated me and took me into the North Gallery. I was speechless! My work was so beautifully hung with all the written explanations with them — thank you all who did this.
I had created all these prints during lockdown, with none of my usual interruptions, and had filled my brain with the amazing life history of eels which was happening right on my Somerset doorstep. It was an amazing gift to have met expert Andy Don who filled my head with knowledge and his passion for these fish — I was hooked and became obsessed night and day.
To then win the award from Birdscapes Gallery was incredible — thank you Steve and Liz. It gave me so much pleasure to know that I had won £500 to go to my favourite charity, the Somerset Wildlife Trust, for which I love to support and work with. The £500 for myself I immediately spent on more printing paper and inks!
My Eel prints are touring: at present they are at Make South West (was the Devon Guild Of Craftsmen) in Bovey Tracey, Devon and have been booked by various galleries through to the summer of 2023, including the London Zoological Society and the Groundworks Gallery in Kings Lyn Norfolk. I also have a talk which I give called ​'Eels and Printmaking'
My next project is going to be about endangered fish in the Bristol channel and the dreadful effects of water-cooled Nuclear Power stations.'
JM
More on Julia's project here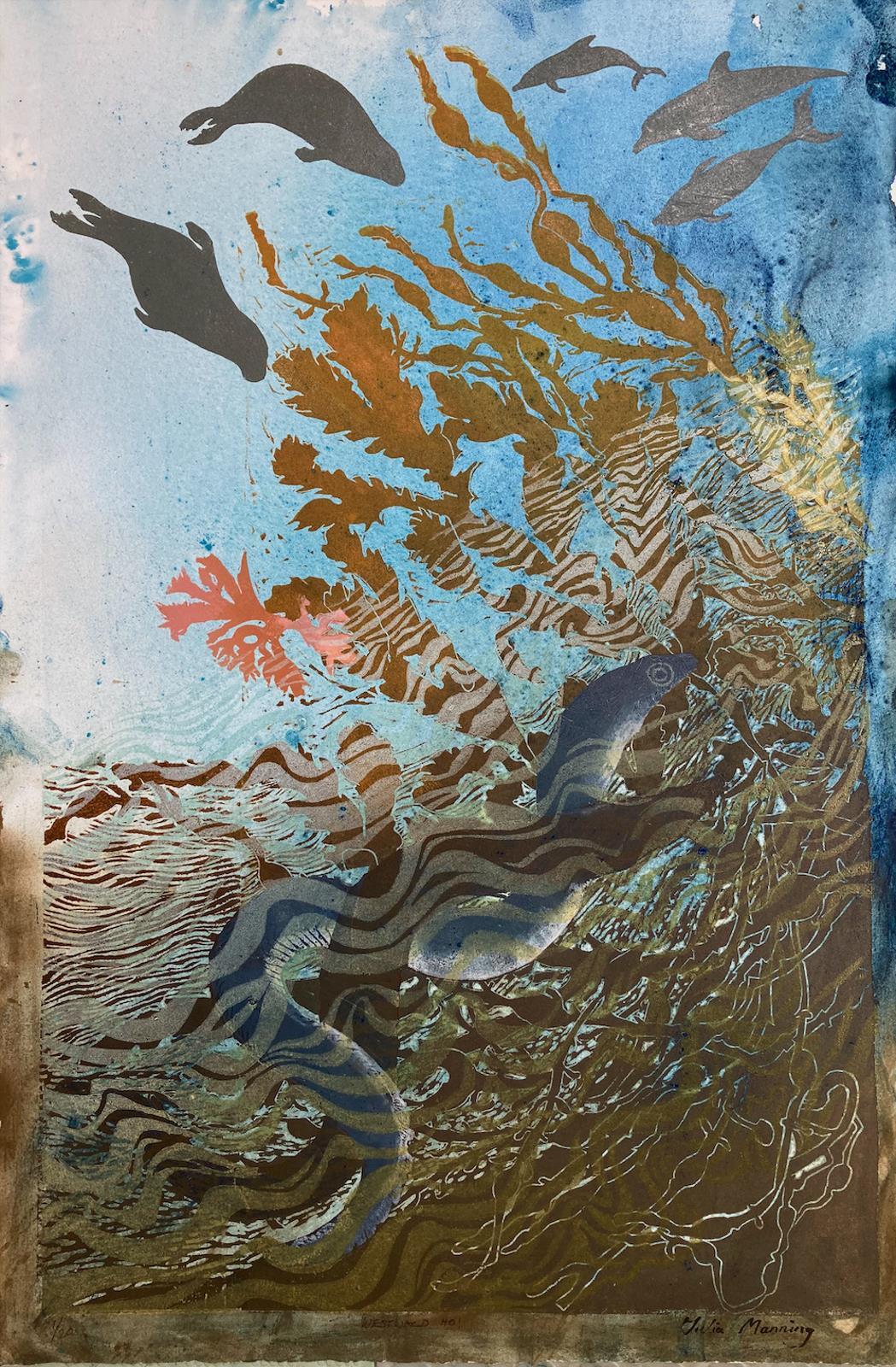 Larsen-Juhl Drawing Award
Tianyin Wang ASGFA




'Inspired by nature, I specialise in charcoal drawing with animals and birds as my preferred subjects, depicting the details and movement that make up their spirit. Playing with the contrast, shapes and tones is such a joy. Drawing is the honesty of art — there is no possibility of cheating.
Animal behaviour is also a strong point of my interest. Schooling fish have no permanent leader — no clear direction. Sometimes they hold a tight shape for a while; sometimes they move towards one direction rapidly. I think about the human world when I see such an interesting subject like this — we debate the direction; we argue left or right; we discuss how to make a better world; each side tells us they are going to make the world better; the questioning never ends; is there an answer, and if so, what is the answer?
In the schooling fish world, how do they work those questions out?
Maybe the audience has their own question and answer.'
TW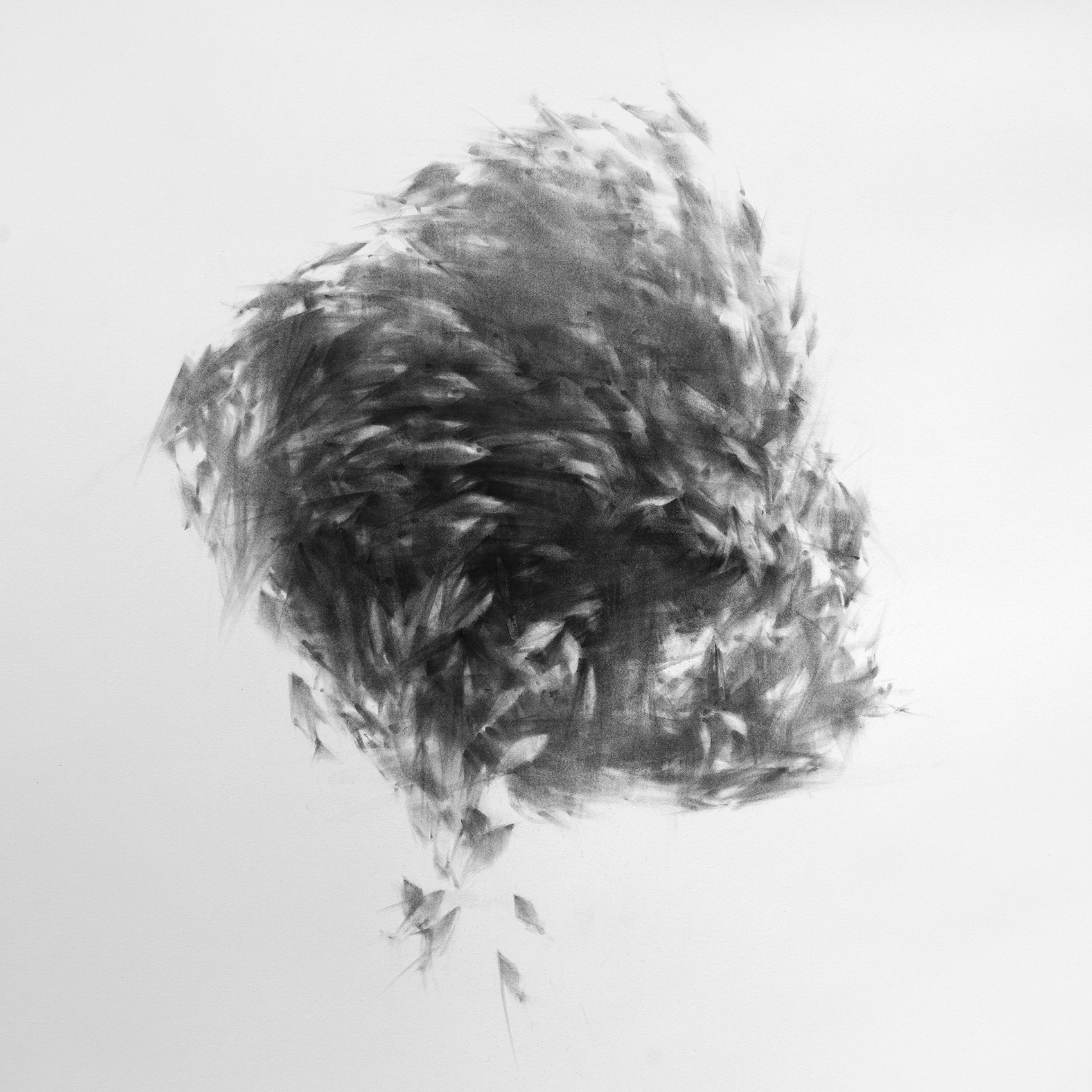 Dry Red Press Award
'Great Crested Grebes, Yellow Water-lilies and Banded Demoiselles'
By Brin Edwards SWLA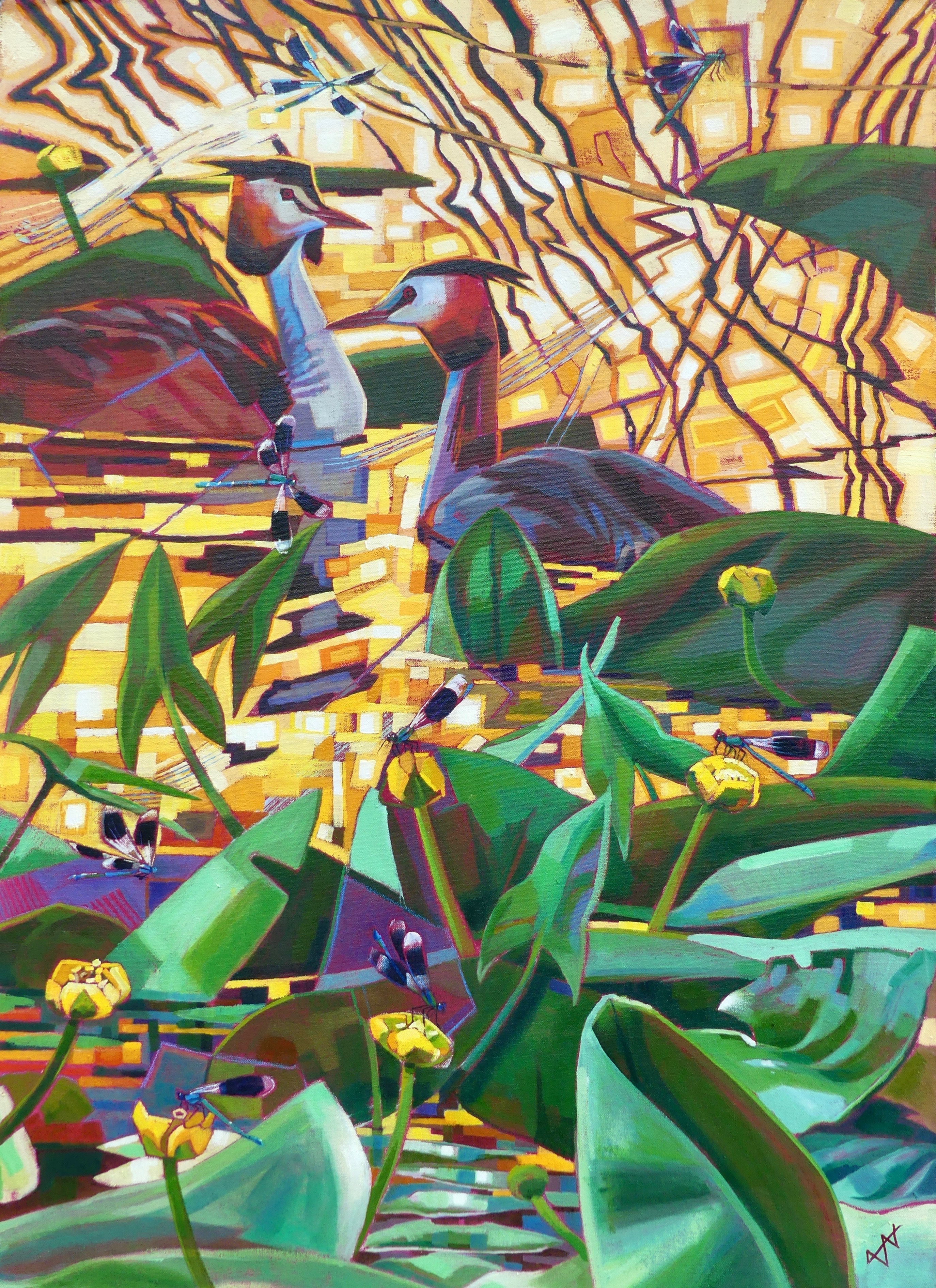 'I live near Sudbury on the River Stour in Suffolk and have done a little bit of kayaking on the river. You definitely see more wildlife when you are on the water and you can gently sneak up on things. Last summer there were masses of Banded Demoiselle damselflies on the river which would rise up in dancing clouds above the yellow waterlilies and arrowheads. The pair of Great Crested Grebes completed the picture while the reflections of reeds along the bank led to the kind of abstracted shapes which find their way into most of my paintings.'
BE