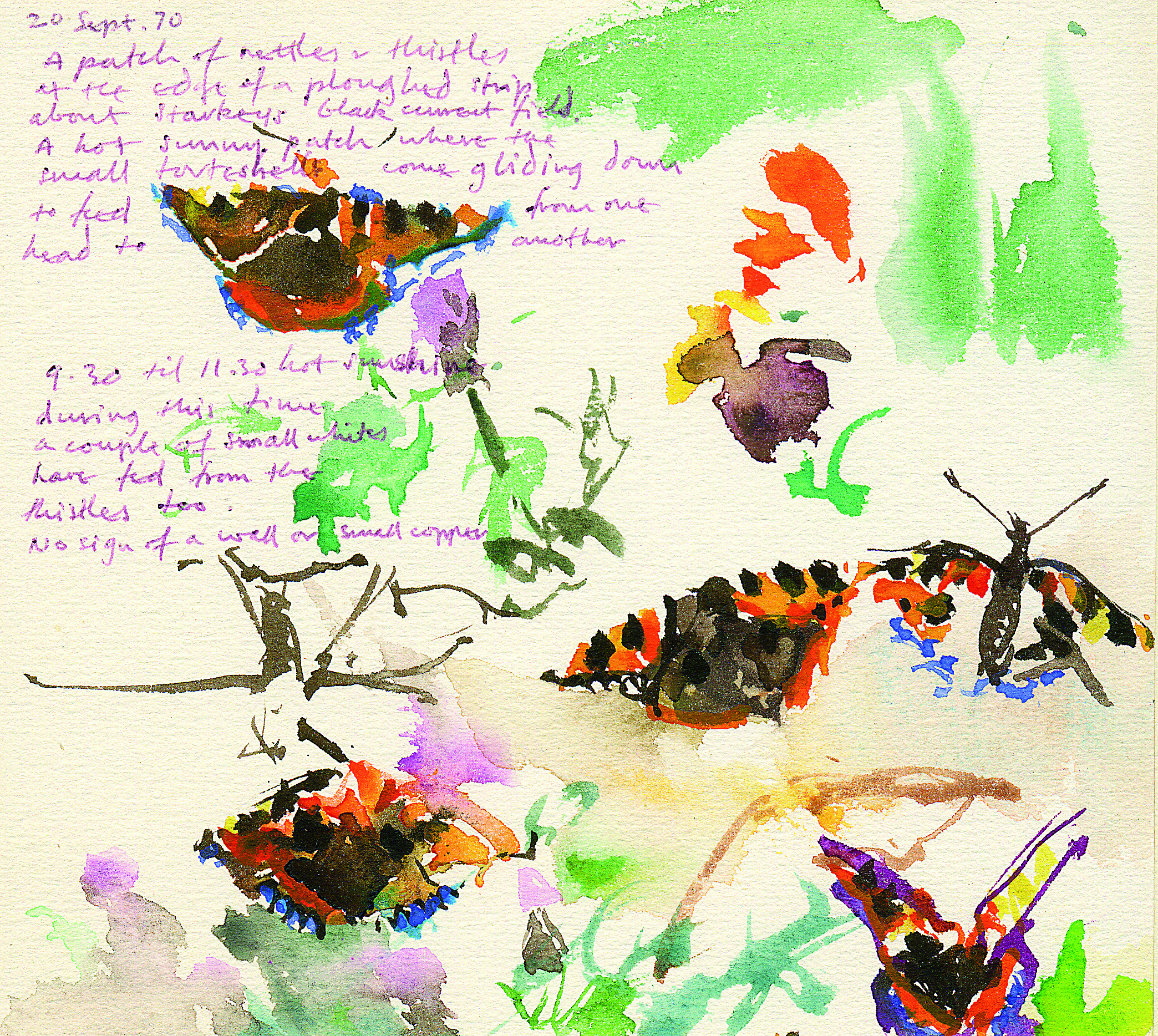 David Measures 1937–2011
SWLA Past member 1998–2011
Traditionally, paintings of butterflies were based on the observations of pinned, dead specimens — faithfully rendered illustrations of flat two-dimensional, albeit colourful, laminas. David Guy Measures was anything but traditional, and he was the first artist to tackle painting and sketching these winged wonders from life, going on to portray all of the British species from his own direct observations. He was not only a superb naturalist; he pushed and extended the boundaries of the wildlife art genre.
Born in Warwick in 1937 the young David had always drawn from an early age, and, of his love of nature and the great outdoors, he once said ​"There is magnet in me drawn to the subtle sense and aura of wild freedom, the porous exchange apparent in wild places and the richness of variety and subtlety which I miss inside a building."
He studied art at Bournemouth Art College before going on to the Slade School of Art in London. In 1964 he took a teaching post at Nottingham College of Art where he settled in the nearby town of Southwell with his wife Christine, daughter Sally and son Simon.
It was the late 60's that David's fascination with butterflies took flight, and it became his life's work to record his observations with his field kit of drawing pad, sheets and clipboard, biro and small paint box. Slowly, he gained a reputation in the field of natural history and he featured in a BBC TV documentary series Bellamy's Britain alongside naturalist David Bellamy. He was encouraged to collect his sketches and writings for publication, and in 1976 his first book Bright Wings of Summer was launched by Cassell. This was followed by Butterfly Season 1984 published by Arlequin Press in 1996.
David's teaching roles extended to visiting course assessor at the Royal College of Art and annually as additional tutor with John Busby's Seabird Drawing Course until his death in 2011. David remains a major influence and inspiration for a generation of artists and his retrospective book Kaleidoscope, The Secret Lives of Britain's Butterflies was published in 2016 by Mascot Media.